Life-extending lung cancer nivolumab drug approved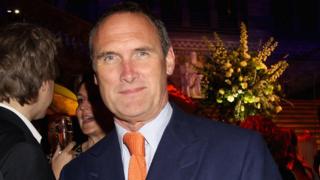 A life-extending lung cancer drug will be made immediately available to NHS patients in England, say advisers.
Campaigners, including the late Sunday Times restaurant critic AA Gill, have repeatedly called for access to the immunotherapy, which can add months to life.
Scotland already offers nivolumab to people with advanced disease who have also tried chemotherapy.
England's drugs watchdog had originally said nivolumab was too expensive.
More life
In new draft guidance, the National Institute for Health and Care Excellence (NICE) has approved nivolumab through the fast-track Cancer Drugs Fund while more evidence is gathered on its cost-effectiveness.
That means some patients - about 1,300 people with advanced squamous and non-squamous non-small cell lung cancer (whose tumours express a molecule called PD-L1) - will now be eligible for the drug.
It is not the first immunotherapy drug available for advanced lung cancer - pembrolizumab was approved for use in December 2016 - but nivolumab hit the headlines during AA Gill's final weeks.
He described nivolumab as "more life spent on Earth - but only if you can pay".
Research has shown that nivolumab increases the number of patients still alive after three years of treatment by two- or three-fold, depending on the type of lung cancer they have.
The former smoker was diagnosed with lung cancer that had spread to his neck and pancreas, with tumours that were inoperable and unsuitable for radiotherapy.
Gill said he had been denied a drug - costing about £5,000 a month - that may have helped him live "considerably" longer and was the weapon of choice for "every oncologist in the First World".
---
What is Nivolumab?
Nivolumab (brand name Opdivo) is a type of immunotherapy that stimulates the body's immune system to fight cancer cells.
It works by interrupting the chemical signals that cancers use to convince the immune system they are healthy tissue.
Patients can have nivolumab into a vein as a drip.
It is used to treat advanced melanoma, blood cancer (Hodgkin lymphoma), kidney cancer and the most common type of lung cancer - non small-cell lung cancer.
It is also used in clinical trials for other types of cancer.
---
Prof Carole Longson, from NICE, said: "We know that nivolumab is clinically effective for some people with lung cancer, but the full extent of its benefit is not clear.
"This new deal means that we can give patients access to what we know is a promising treatment whilst more evidence is gathered on its value."
Prof Paul Workman, from the Institute of Cancer Research, in London, said: "Immunotherapies are currently very expensive, but one of the ways to make them more cost-effective is to direct them to patients most likely to respond. Today's decision is a welcome step in the right direction."