Hurricane Irma: Boris Johnson to fly to battered Caribbean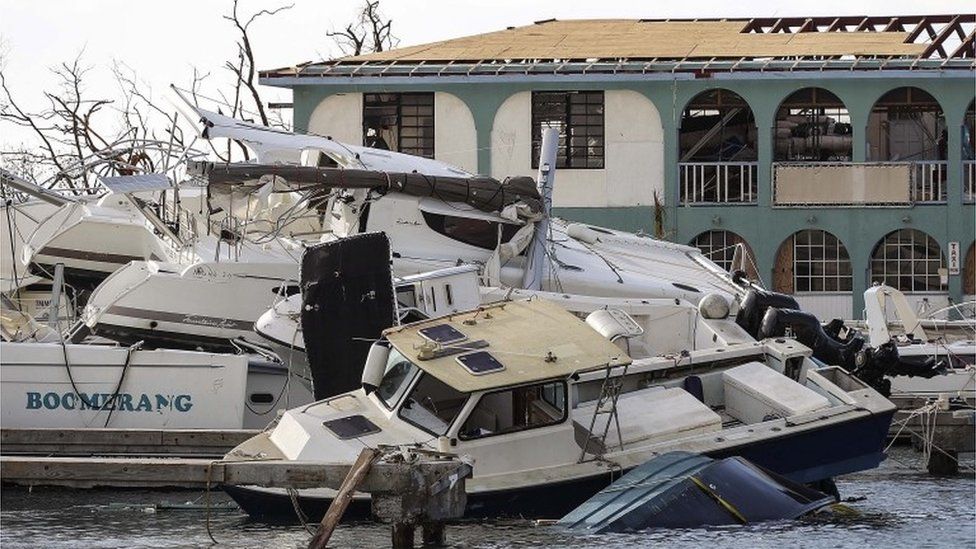 UK Foreign Secretary Boris Johnson is to fly to the Caribbean later, in the wake of devastating Hurricane Irma.
The BBC understands he will spend the "coming days" visiting the British Virgin Islands and Anguilla, the worst-hit British overseas territories.
Mr Johnson will see the relief effort at first hand, visit affected communities and meet local governors.
His trip follows criticism from people in the Caribbean and senior MPs that the UK's response was too slow.
Labour leader Jeremy Corbyn said the British government "should have acted much faster", and those with relatives in hurricane-hit areas said they had not been supported.
Holidaymakers Liz Jackson and Craig Guest, from Barnsley, were rescued by a US plane from the Caribbean island of St Martin - part Dutch, part French - after Irma hit.
Ms Jackson describes fearing for her life, as walls shook and the roof sounded as though it would come off.
The couple used furniture to barricade themselves into their hotel room and kept a knife at their bedside after a power cut meant electric door locks did not work.
Ms Jackson said there had been reports of people in the streets carrying machetes and looters taking over one family's hotel room.
"I appreciate there probably weren't many Britons on the island," she said. "But I feel we didn't have that support. It's disheartening and sad, really."
But Defence Secretary Michael Fallon insisted the UK had responded "very quickly", with one ship helping in Anguilla since Thursday.
He said consular staff were in the region trying to get in touch with Britons who were on other Caribbean islands, not under British responsibility.
The UK was working with the US, France and the Netherlands, making an "international effort", he told BBC's Breakfast.
The French President, Emmanuel Macron, is visiting French islands in the Caribbean to see the storm damage for himself.
Asked if Prime Minister Theresa May would also visit the area, Mr Fallon said she was holding daily meetings of the government's emergency response committee, and was working on longer-term reconstruction, including shelter and resources.
On Monday, Mr Johnson said further support would soon be made available on top of the £32m already pledged to the relief fund.
Anguilla, Turks and Caicos, and the British Virgin Islands (BVI) are among 14 British overseas territories which are all self-governing but the British government is responsible for their defence and security with a duty to protect them from natural disasters.
Anguilla suffered extensive damage, and at least one person has been confirmed dead.
Widespread damage was caused to the Turks and Caicos Islands, but the full extent of it is still unclear.
Similarly, there has been damage caused across the 50 British Virgin Islands, and five people are known to have died.
So far, some 900 UK troops, 50 police and over 20 tonnes of aid have been sent to the Caribbean islands devastated by last week's hurricane - the most powerful Atlantic storm in a decade.
In Anguilla, Turks and Caicos and BVI, there is a military presence amid reports of looting in some areas.
Another ship, HMS Ocean, has been deployed to provide aid to the Caribbean, the second since RFA Mounts Bay started helping in Anguilla on 7 September.
But Josephine Gumbs-Connor, a lawyer in Anguilla, said she was "very disappointed" with the UK government.
It was "a slap in the face" to look across the waters to "our French brothers and sisters" where the response from President Macron had been very different, she said.
"He made sure to position his military in advance of the storm, so that they were prepared.
"They were already seized with the knowledge of where might be the vulnerable areas," she added.
She also pointed out that the sum pledged to Anguilla was insufficient to restore the island's damaged hotels and rebuild its tourism industry, and repair its hospitals, schools and the island's port.
In the British Virgin Islands, communications are mostly still down and its premier, Orlando Smith, has called for a "comprehensive economic package for reconstruction" from the UK.
Sir Richard Branson has said most of the buildings and vegetation on Necker, which is among the 50 British Virgin Islands, had been destroyed or badly damaged by Hurricane Irma.
"We felt the full force of the strongest hurricane ever in the Atlantic Ocean. But we are very fortunate to have a strong cellar built into Necker's Great House," he wrote in a blog post from nearby Puerto Rico.
Meanwhile, thousands of stranded holidaymakers in Florida - also badly hit - are due to start arriving in the UK on Wednesday.
Irma was downgraded to a tropical storm on Monday, after it had wreaked havoc along Florida's west coast.
Are you in the British Virgin Islands? Share your views and experiences by emailing haveyoursay@bbc.co.uk.
Please include a contact number if you are willing to speak to a BBC journalist. You can also contact us in the following ways: