Hurricane Irma: Stranded couple on 'honeymoon from hell'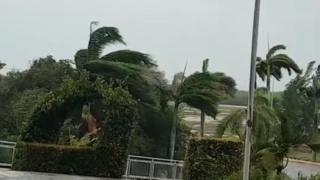 British tourists in Cuba have been speaking of the impact of Hurricane Irma, with one saying the storm had led to the "honeymoon from hell".
Irma has made landfall on the island, having claimed at least 20 lives as it churned across the Caribbean.
Thomas Cook has been criticised by some for not evacuating tourists, and continuing to bring holidaymakers to Cuba's resorts as late as Thursday.
A spokeswoman says the firm is working with Cuban authorities to get customers off the island.
Sam Lever, 50, from Bury in Greater Manchester, travelled to Cuba last week with his new wife Chelsea, 30, for their honeymoon.
The couple told the BBC how they, along with 2,500 other Thomas Cook passengers, had to travel eight hours by coach from the resort of Cayo Coco to the town of Varadero.
Mr Lever said: "This is becoming a honeymoon from hell.
"We were all put on 11 buses by the authorities and had to travel eight hours with no food to Varadero.
"There were people on those coaches who had arrived from Manchester the night before. I just find that scandalous behaviour."
Mr Lever said a contingent of Canadian tourists in the resort were flown home on Thursday.
He said he and his wife were "huddled into a games room" with other tourists.
"We just think Thomas Cook was playing a game of roulette, seeing if the storm would even hit Cayo Coco.
"It's scandalous that they flew people out on Wednesday, with staff who were going to deal with the evacuation.
"It's an absolute disgrace."
One of those flown in on Wednesday was Steve Allen, who said there were "major flaws" in the evacuation process.
"They actually lost our passenger manifest at the hotel so we didn't know who was meant be going where at the time," he said.
"Well, we are now stuck in Varadero and praying we get through this nightmare in one piece."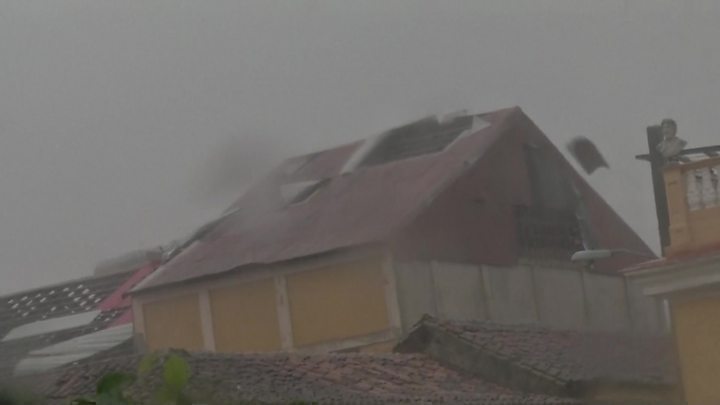 A spokeswoman for Thomas Cook said the company had followed advice given to them by Cuban authorities, and that they were told to evacuate their customers to Varadero.
She added that three aircraft would be chartered to Varadero on Sunday to bring UK holidaymakers home.
Roy Pinches said his daughter, who works as cabin crew for Thomas Cook, had been sent to Cuba on Thursday and was now stranded on the island.
Mr Pinches said: "They have been told to stay in one room where 10 cabin crew have been told to barricade themselves in
"Their last option is to use the bathroom where they have been told to get under the table placed there.
"This hotel could not be in a worse position to handle this hurricane."
Thomas Cook's spokeswoman added that staff members and reps were all in lockdown, like customers, as advised by Cuban authorities.