What are the UK's commitments to overseas territories?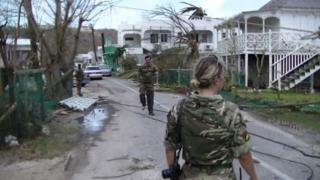 The UK is facing criticism for its response to Hurricane Irma, but what are its responsibilities to its overseas territories?
Britain has 14 overseas territories. They are mostly former colonies and are located all over the world, from Gibraltar and the Falklands to Anguilla, Turks and Caicos, and the British Virgin Islands in the Caribbean.
Most are largely self-governing with their own constitutions and governments. But the people who live there are British citizens, the Queen is their head of state and Britain is responsible for their defence and security.
As such, the UK government has a clear duty to protect the citizens of these territories from natural disaster.
Defence cuts
In a white paper, published in June 2012, the Foreign Office declared: "The protection of the overseas territories and their people is one of the UK government's most important responsibilities."
It continued: "The main threats to the territories are hurricanes, volcanoes, earthquakes and tsunamis.
"The emergency services in a small territory can be overwhelmed by a major incident. The UK government recognises its responsibility to support a territory facing a disaster."
The Royal Navy used to have a permanent presence in the Caribbean. This could involve a frigate and a tanker and a Royal Fleet Auxiliary (RFA) ship.
These days, as a result of defence cuts, an RFA ship is sent only for the hurricane season between May and November. This year RFA Mounts Bay was deployed, pre-loaded with humanitarian aid, marines and engineers.
The islands' governors - who are appointed by the Queen - are responsible for co-ordinating the immediate disaster response.
They all have to do specialist training in disaster management. The Foreign and Commonwealth Office (FCO) also organises pre-hurricane seminars with the Caribbean territories and periodically reviews their disaster management capabilities.
Permanent bases
The UK government has been accused of failing to act as quickly as France and the Netherlands following Irma.
British officials reject this, insisting the deployment of RFA Mounts Bay was planned to deal with just such a natural disaster. They also say there is no point rushing in with immediate humanitarian aid without first assessing the need. They have sent in experts to do just that.
Officials also point out that unlike the UK, both France and the Netherlands have substantial numbers of troops based permanently in the Caribbean which makes them easy to deploy to affected islands.
France has more than 2,000 military personnel in French Guyana and more than 1,000 in the Caribbean, centred on a naval base in Martinique. They have two frigates in the region with helicopters.
The Dutch also have hundreds of troops stationed permanently in the Caribbean islands along with two naval vessels.