Madeleine McCann: Police request funding for inquiry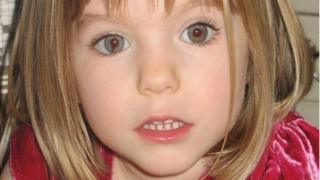 Police have asked the government for more money to investigate the disappearance of Madeleine McCann, weeks before funding is due to end.
More than £11m has been spent on the Metropolitan Police hunt, but funding will run out at the end of the month.
In April, the force said it was still pursuing a critical line of inquiry, 10 years after Madeleine's disappearance in Portugal, aged three.
A family spokesman said her parents were "encouraged" by the request.
The Home Office said the application would be considered.
What happened the night Madeleine went missing?
Police funds extended for six months
Madeleine, whose parents Kate and Gerry are from Rothley, Leicestershire, disappeared from her family's holiday apartment in Praia da Luz in May 2007.
The Met's Operation Grange has been helping with the search for clues about what happened to her since 2011.
In April, the force's Assistant Commissioner, Mark Rowley, said they still hoped they could provide answers.
He said: "I know we have a significant line of inquiry which is worth pursuing, and because it's worth pursuing it could provide an answer, but until we've gone through it I won't know whether we are going to get there or not."
Mr Rowley said there was no "definitive evidence" as to whether Madeleine was alive or dead.
He also declined to reveal the nature of the working theories or whether any suspects were currently being considered, but said the investigating team were still receiving evidence and new information from members of the public on a daily basis.
In March, the Home Office granted police £85,000 to cover "operational costs" between April and September this year.
The McCann spokesman added: "Naturally, Kate and Gerry hope the Met request is granted.
"They are encouraged that there remains work to be done that requires extra funding and they remain very grateful to all Operation Grange officers who are continuing to look for their daughter."
A Scotland Yard spokesman said: "Funding is in place until the end of September.
"Any details about future funding will be released when appropriate."
Thursday 3 May 2007: Timeline
20:30 Kate and Gerry McCann leave their apartment to have dinner at a Tapas bar
21:05 Gerry McCann checks on Madeleine and her siblings
22:00 A man is seen carrying a child wearing pyjamas heading towards the ocean (E-fit images of the suspect were released as part of a 2013 Crimewatch appeal)
22:00 Kate McCann raises the alarm that Madeleine has gone missing