Bias against ethnic minorities 'needs to be tackled' in justice system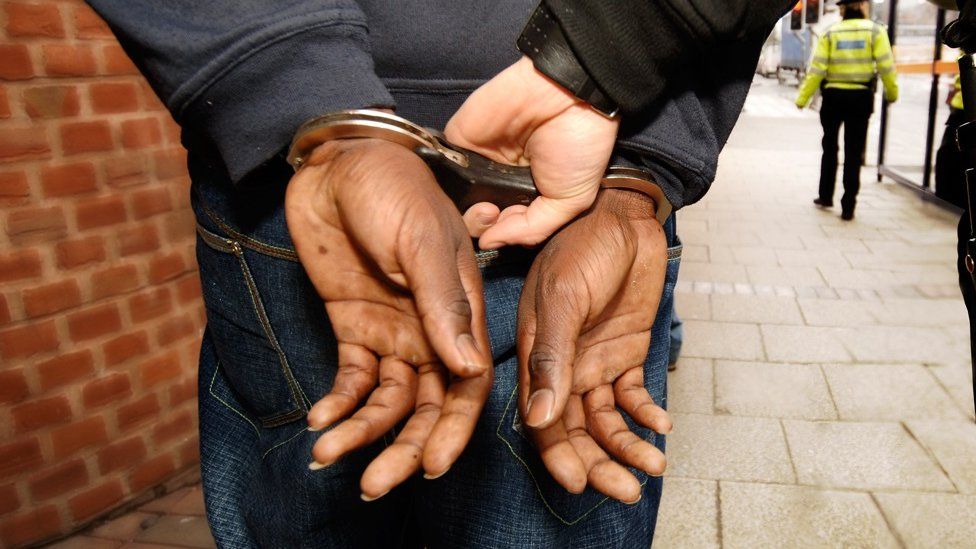 Young offenders from ethnic minorities will become "the next generation" of criminals unless the justice system is reformed, says MP David Lammy.
A review led by him found the system in England and Wales is biased and discriminates in treatment of people from ethnic minority backgrounds.
The Labour MP has made 35 recommendations, including delaying or dropping some prosecutions.
The government said it will "look carefully" at the suggestions.
People from black, Asian and minority ethnic (BAME) backgrounds make up 25% of the prison population in England and Wales and 41% of the youth justice system, despite these groups being 14% of the general population, the review says.
It has highlighted various "concerning" statistics, including a rise in the proportion of first-time offenders from these backgrounds to 19% - up from 11% - in the past 10 years, and the same increase in the proportion of young people reoffending.
Recommendations from the report included allowing low-level offenders to "defer" prosecution and opt for a rehabilitation programme before entering a plea, more gathering of data on the ethnicity and religion of offenders, and the introduction of targets for a more representative workforce within the justice system.
Mr Lammy said it was well established that there was an over-representation of people from minority backgrounds in the criminal justice system, but his report was about looking at their "treatment and outcomes".
Whilst he does not believe all of the blame lies at the door of the justice system, noting the "broadly proportionate" decision on charging by the Crown Prosecution Service, Mr Lammy said: "It is clear to me that BAME individuals still face bias."
Trust is one of the major issues, according to the report. It says individuals from these backgrounds do not trust the advice provided by their solicitors or police officers when it comes to pleading guilty.
As a result, the rate of black defendants pleading not guilty in Crown Courts between 2006 and 2014 was 41%, compared with 31% for white defendants - leading to more trials and longer sentences.
Also, when in prison, many BAME men and women believe they are actively discriminated against, which Mr Lammy says "contributes to an atmosphere of 'us' and 'them' and an urge to rebel, rather than reform".
Agencies must work together
By Danny Shaw, BBC home affairs correspondent
The most striking recommendation in this detailed and well-evidenced report is the idea of deferred prosecutions.
It's similar to the "conditional cautioning" scheme under which people escape trial if they admit their offence and agree to undergo rehabilitation, do unpaid work or pay compensation.
The Lammy report also referred to Operation Turning Point - a deferred prosecution pilot project run in the West Midlands which resulted in fewer violent offenders committing further crimes compared with those taken through the courts.
If rolled out, the programme would be applied to offenders from all ethnic backgrounds, though those from BAME communities, who are disproportionately represented, could benefit most.
But its success would depend on probation, health and justice agencies working together, and working intensively with offenders. And that requires investment at a time when budgets are tight.
His biggest concern, however, is the youth justice system, as whilst youth offending has fallen significantly in the past 10 years, there is now a larger share of young people from ethnic minorities offending for the first time, reoffending and serving a custodial sentence.
The report points out black children are more than twice as likely to grow up in a lone parent family, and black and mixed ethnic boys are more likely than white boys to be permanently excluded from school.
Mr Lammy said the youth justice system seemed to have "given up on parenting" - saying behind many young offenders are adults who neglect or exploit them.
Mr Lammy said responsibility must be taken by adults - and the youth justice system "should be more rooted in local communities" where parents can play a stronger role.
Prisons are products of society, he said: "The criminal justice system has deep-seated issues to address, but there is only so much it can do."
Lammy report recommendations
More data should be recorded and published on both ethnicity and religion for better scrutiny of the Criminal Justice System's approach
The Crown Prosecution Service should consider its approach to gang prosecutions, making sure people's actions are punished, not their associations
Modern slavery legislation should be reviewed to see if it can help prevent the exploitation of vulnerable young men and women
Identifying information should be redacted to make for "race-blind" decisions on cases
All sentencing remarks made in Crown Court should be published, along with a system of online feedback on judges
Hiring of new judges, with a national target of a representative judiciary of 2025, along with a more representative prison staff
Low-level offenders should be allowed to "defer" prosecution and opt for a rehabilitation programme before entering a plea - a model used in the West Midlands, which Mr Lammy says has "produced impressive results and should be rolled out across the country"
Young offenders should be assessed for their maturity to inform sentencing decisions
The prison service should take a "problem solving" approach for dealing with complaints and ensure fairness for prisoners when it comes to incentives and earned privileges,
Reformed offenders should be able to apply to have their criminal records "sealed" - so they need not disclose their offence to a employer
Junior Smart, who founded the St Giles' Trust SOS project - which supports young people in the justice system - after spending five years in prison for drugs offences, welcomed the report.
He told BBC Radio 4's Today programme: "The cultural understanding amongst young people is you don't trust the police and you don't talk to the police.
"There is that lack and we need them to come forward, and we need to make sure that victims are supported.
"And the fact is the criminal justice system doesn't reflect the diversity and how criminality is evolved over time...
"It is not lack of will - these people have got the best intentions for these young people - but they don't reflect the diversity that we are seeing and they don't understand the complexity."
Malcolm Richardson, chairman of the Magistrates Association, said there was not sufficient evidence to pinpoint why the disparity occurs, but he agreed the lack of trust in the system needed to be addressed.
The Equality and Human Rights Commission urged the government to respond "urgently" and put in place a comprehensive race strategy with targets to reduce race inequality.
Labour shadow justice secretary Richard Burgon said Mr Lammy's recommendations could "play an important role in eradicating discrimination".
Justice Secretary David Lidington said the government would "look very carefully" at the review's findings and recommendations before responding fully.
Gareth Wilson, the National Police Chiefs' Council's lead for equality and diversity, said he would work with the Home Office and College of Policing to make more data on ethnicity available for scrutiny - but also work on making the force more representative.
Director of Public Prosecutions Alison Saunders said the CPS would consider the review's recommendations.