Brian and Paul among Met Office storm names for 2017-18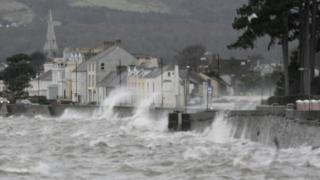 Brian, Maeve and Niall are among 21 storm names announced for the 2017-18 season by the Met Office and Met Éireann.
It is the third year that names have been used for stormy weather systems that have reached Britain and Ireland.
Previous names used have included Clodagh and Henry in 2015-16, and Conor and Holly in 2016-2017.
The names have once again been chosen by the public in the UK and the Republic of Ireland.
Raising awareness
Storms are named when there is a risk of medium to high impacts from wind, rain or snow.
In order to comply with international storm-naming conventions, they do not include names beginning with Q, U, X, Y and Z.
These generate yellow, amber or red warnings from the UK's Met Office.
The Irish Met Éireann equivalents are yellow, orange or red status.
Derrick Ryall, head of public weather services at the Met Office, said the use of names had a practical purpose.
"Naming storms has been proved to raise awareness of severe weather in the UK, crucially prompting people to take action to prevent harm to themselves or their property," he said.
Five storms were named last year, from Angus in November to Ewan in February.
In the 2015-16 season, 11 storms were named, from Abigail in November to Katie at the end of March.