Britons evacuated as Hurricane Irma hits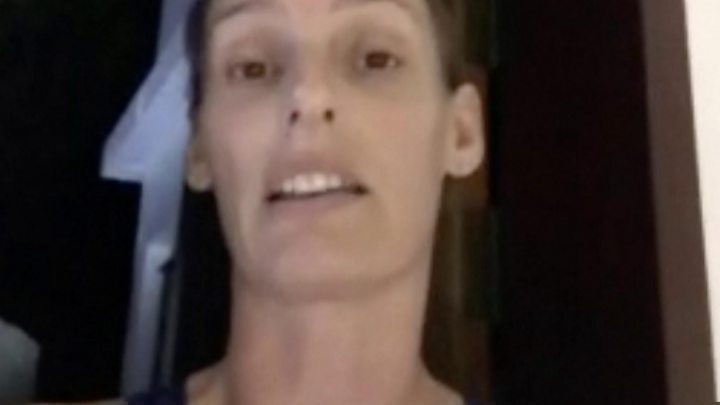 Britons in the Caribbean and Florida have been urged to follow evacuation orders as the most powerful Atlantic storm in a decade hits the region.
The Foreign Office warned that Hurricane Irma would bring hazardous conditions to the area.
Briton James Fairs, who lives on the island of St Kitts, said experiencing the storm was "pretty scary".
Airlines were forced to ground or divert flights, and British Airways evacuated 326 passengers from Antigua.
Some travellers have been left stranded after being unable to get a flight following the category five hurricane - the highest possible level.
The storm - which has sustained wind speeds reaching 295km/h (185mph) - has already caused major flooding and damage to buildings on several islands.
France's overseas affairs minister confirmed two people have been killed and another two seriously injured in the French Caribbean territories of St Martin and St Barts.
Latest updates: Hurricane Irma batters Caribbean
The eye of the storm hit the island of Barbuda, which has a population of about 2,000 people, shortly after 01:00 local time (05:00 GMT).
It has since hit Antigua, before moving on to St Martin and St Barts.
'Nothing available'
Mas Rezai, from London, is on holiday in the Dominican Republic with his family but has not been able to leave the island.
"We want to go home but British Airways say they do not have flights available," he said.
"When I complained and asked why British Airways wasn't providing a plane to get British citizens out they told me they simply had nothing available.
"Now we are hearing the airport is closed too. We just want to go home as soon as possible."
BA sent an aircraft to Antigua on Tuesday to collect 326 customers.
"We are making sure our customers are well looked after in their hotels and are constantly monitoring the situation and liaising with the airport authorities in the region," a spokesman said.
Pippa Holman, 24, is on holiday with her parents and sister in Antigua and said they had been "incredibly fortunate" to avoid the worst of the storm.
"The anticipation was the most frightening part," she said. "It was howling around us, but we were really fortunate the damage was relatively limited."
Holidaymaker Alex Woolfall, from London, tweeted from his hotel on the nearby island of Saint Martin, where he was taking cover in a stairwell after being evacuated from his room.
He wrote: "My God this noise! It's like standing behind a jet engine!! Constant booms & bangs. At least concrete stairwell not moving."
He added: "May be my last tweet as power out and noise now apocalyptic. This is like a movie I never want to see."
Mr Fairs, who lives at Frigate Bay in St Kitts, said the hurricane felt like being on a plane as it takes off.
"At one point we could see what we thought was lightning through the curtains but when we looked out we could see live electricity cables dancing around in the dark," he said.
Sir Richard Branson said he had experienced a night of "howling wind and rain" as the hurricane "edges ever closer" to his private Necker Island, in the British Virgin Islands.
Writing a blog on Wednesday, he said: "All of us slept together in two rooms. I haven't had a sleepover quite like it since I was a kid.
"The atmosphere is eerie but beautiful. Everyone is willing the eye of the storm to veer away from the British Virgin Islands in these last few hours.
"We are expecting to get the full force of the hurricane in around five hours' time, when we will retreat to a concrete wine cellar under the Great House."
The Royal Navy ship RFA Mounts Bay, which is currently in the Caribbean on operations to counter drugs smuggling, is on standby to help.
The Department for International Development (DfiD) has also sent three humanitarian experts from the UK to the Caribbean to provide assistance.
Priti Patel, DfiD secretary, said: "Our staff are on standby, both in the UK and at post, to support any British people affected.
"We urge British Nationals in the affected area to closely monitor and follow Foreign Office and local travel advice."
Virgin Atlantic warned that any customers booked on flights to or from Antigua, Havana and Miami between Wednesday and Monday may need to rebook. The airline said it had cancelled a flight to Antigua on Thursday.
San Juan airport, the busiest in Puerto Rico, has cancelled about 40% of its flights in response to the hurricane.
Thomas Cook has postponed two flights from Manchester for 24 hours - one going to Punta Cana in the Dominican Republic on Thursday, and a flight travelling to Cuban airport Vardadero on Friday.
---
Are you in the region? If you are a holidaymaker unable to get a flight home or a resident who has been preparing for Hurricane Irma share your experiences by emailing haveyoursay@bbc.co.uk.
Please include a contact number if you are willing to speak to a BBC journalist. You can also contact us in the following ways: