Heterosexual couple take civil partnership case to Supreme Court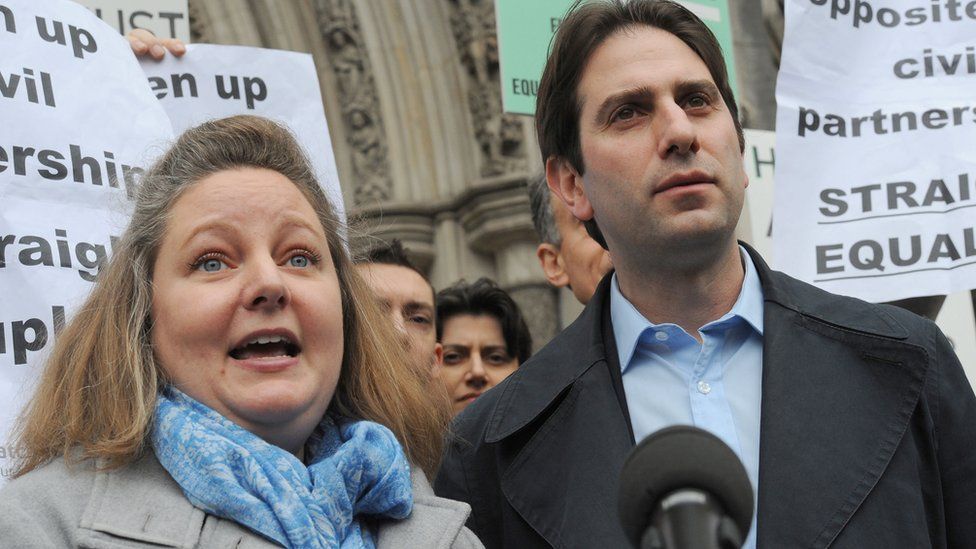 A heterosexual couple who want to enter a civil partnership instead of getting married have been granted the right to take their case to the Supreme Court.
The Court of Appeal in February rejected the claim brought by Rebecca Steinfeld, 36, and Charles Keidan, 40.
The couple, from west London, argue the government's position is "incompatible with equality law" and there is still "everything to fight for".
Ms Steinfeld and Mr Keidan, who have a daughter and another child on the way, argue that not all families are comfortable with marriage, but want the "financial and legal protection" that a civil partnership provides.
If the Supreme Court overturns the previous judgement, heterosexual couples would be allowed to enter the secular partnership, which came into law for same-sex couples in 2005.
In a civil partnership, a couple is entitled to the same legal treatment in terms of inheritance, tax, pensions and next-of-kin arrangements.
It also provides both parties with protection if a partnership ends.
The Equal Civil Partnerships Campaign argues marriage comes with religious connotations and notions of patriarchy.
'Significant achievement'
Ms Steinfeld said: "We hope the Supreme Court will deliver a judgment that will finally provide access to civil partnerships for thousands of families across the country."
His solicitor Louise Whitfield said: "This is a very significant achievement for my clients as the Supreme Court only gives permission for a very small number of cases each year - those that are the most important for the court to consider."
The couple's case was first rejected by the High Court in January 2016.
The Court of Appeal later said there was a potential breach of their human rights, but the government should have more time to decide the future of civil partnerships.
A government spokesman had welcomed the ruling but said it would take the judgement into account during its evaluation of civil partnerships.