News Daily: Carnage in Barcelona
Hello. Here's your morning briefing:
Spanish police say they have killed five people in the resort town of Cambrils to stop a second attempted van attack after an earlier one in Barcelona.
The attackers were wearing explosive belts and had run over civilians with a car, police said.
Thirteen people died and dozens were injured when a van ploughed into crowds in Barcelona's busy Las Ramblas area on Thursday afternoon. The driver of the van fled and is still at large.
Spain's Prime Minister Mariano Rajoy has described it as a "jihadist attack".
The authorities are now linking the attacks in Barcelona and Cambrils with an explosion at a house on Wednesday evening in the town of Alcanar that left one person dead.
Live updates on Barcelona attack
Analysis: A worrying trend
By Gordon Correra, security correspondent
Barcelona is just the latest European city to witness the terrible effects of a vehicle attack on an iconic or "soft" target.
The weapons employed are readily available and there is little or no training, co-ordination or planning required. This means there are few points where individuals can be spotted by the intelligence services.
Although so-called Islamic State has released a statement saying what it calls its "soldiers" had carried out the Barcelona attack, it is not yet clear whether there was any direct link to the group or if they were simply inspired by its call to act. The language used often indicates the latter.
Get news from the BBC in your inbox, each weekday morning
Trump defends 'beautiful' Confederate monuments
President Donald Trump has denounced the removal of "beautiful" Confederate statues, tweeting that he was "sad to see the history and culture of our great country being ripped apart". Mr Trump drew outrage once again by defending organisers of a white supremacist rally that left a woman dead and dozens hurt. The rally in Charlottesville, Virginia, was initially organised to protest against the removal of a statue of a general who had fought for the pro-slavery Confederacy during the US Civil War. Critics say monuments to the Confederacy are racially offensive, but supporters say they are important symbols preserving Southern heritage.
UK exports leap with high salmon sales
The UK exported a record amount of food and drink in the first half of the year, according to industry figures. Salmon sales boosted exports, jumping more than 53% by value to £408m, the Food and Drink Federation said. UK food and drink exports rose 8.5% overall to £10.2bn, helped by the fall in the pound after last year's vote to leave the EU. Whisky remained the top export, while salmon was second and beer rose to third after it overtook chocolate.
Mother wins MoD apology after Land Rover death
In July 2005, Pte Phillip Hewett was killed by a roadside bomb while travelling in a lightly armoured "snatch" Land Rover in Iraq. Twelve years later, following a legal battle that reached the Supreme Court, his mother Sue Smith has received an apology. Defence Secretary Sir Michael Fallon apologised for failures that "could have saved lives", leading Mrs Smith to respond that her son "didn't die for nothing".
What the papers say
As expected, events in Barcelona dominate the front pages which feature images and strong language that some people may find disturbing. The Times describes it as the first major terrorist attack on Spain since 2004. The Telegraph says footage of the scene showed dozens of bodies sprawled across the pavement in a street popular with tourists, Las Ramblas.
Daily digest
Healthier hamburgers Calories in popular foods such as pizzas and burgers must be cut to tackle obesity, health officials say
Sailors sanctioned The US Navy says it will discipline a dozen sailors after a collision which killed seven in June
Sweet Sussex West Sussex is rated the best place to live in England and Wales for pensioners
If you watch one thing today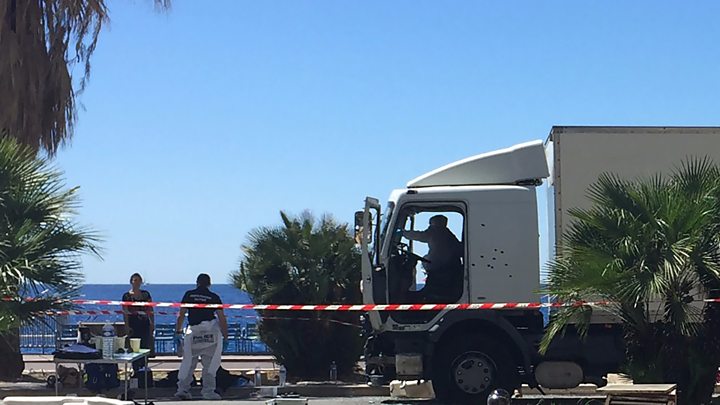 If you listen to one thing today
Inside Romania's webcam industry
If you read one thing today
The afternoon that changed Hungerford forever
Today's lookahead
Today A judgement is due on comedian Michael Barrymore's case for compensation after a "wrongful arrest" over the death of a man in his swimming pool 15 years ago
09:30 The ONS will release monthly tourism figures covering June, which could indicate effects of the weaker pound and also whether the terrorist attacks have deterred visitors
On this day
1960 The first commercially produced female oral contraceptive becomes available in the United States
1964 South Africa is banned from participating in the Olympics due to its policy of apartheid
From elsewhere
Trump retells dubious claim about General Pershing (Politifact)
Wikileaks turned down leaks on Russian government during US presidential campaign (Foreign Policy)
A sixth Australian politician might be a dual national (BuzzFeed)
Parliament's pest control bill hits a record £130,000 (Telegraph)