Motorway lessons for learner drivers confirmed for 2018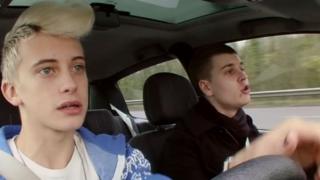 Learner drivers in England, Wales and Scotland will be allowed to have lessons on the motorway by next year, the government has announced.
The Department for Transport (DfT) said lessons would be in a dual-control car with an approved driving instructor.
Currently only those who have passed their test can drive on a motorway, but in 2015 the DfT said it would consider a law change.
Transport Secretary Chris Grayling said the lessons would make UK roads safer.
He said: "Allowing learners to drive on motorways in a supportive environment will help them develop a practical understanding of how to use motorways safely before driving independently."
Road deaths link
Mr Grayling said young drivers were more likely to be killed or seriously injured on Britain's roads - and a lack of experience was an "important factor".
"The UK has some of safest roads in the world and we want to make them even safer," he said.
New driver Leonnie Wharton, from Wigan, told the BBC: "I passed my test a week ago and have been on the motorway twice on my own.
"It was quite a scary experience, I'd read up on the theory but actually doing it is completely different.
"I'm apprehensive about doing it again on my own, but I don't want to get to the point where I actively avoid going on the motorway."
The 25-year-old said motorway lessons would have definitely helped with her nerves and she agrees that motorway instruction should be part of learning to drive.
"It's ridiculous that it isn't already when it is a big part of driving. Learners should feel confident on the motorway; it would make the roads safer," she said.
---
Top tips for learners
Instructor Sharon Starr, whose driving school is based in Stoke Newington, north London, is in favour of the plans - but cautioned many instructors do not offer motorway lessons as they perceive them to be more dangerous. She has this advice for first-time motorway drivers:
Keep calm. The most important thing is to keep calm, and remember your instructor is there to help if you have a problem. Motorways are similar to dual carriageways - which learners have already driven on - so it's the same but a bit faster.
Plan ahead. Sometimes you need to ease off the accelerator to create the gap ahead. You need to build up speed quite quickly when you are joining the motorway.
Don't hesitate. If you hesitate while joining the motorway or changing lanes you can put yourself or other drivers in danger. Once you've begun to move, they are expecting you to go.
Watch speed limits. Lots of people don't realise the speed limit isn't only 70mph. There are average speed cameras where the speed limit is 50mph so you need to be careful.
---
There were 1,810 deaths on UK roads in the year to September 2016, in line with the previous year, according to provisional estimates published by the DfT.
In 2015, a DfT policy document suggested motorway lessons alongside a number of proposals, including increasing penalty points for using a mobile phone while driving and a £2m research programme to improve safety for inexperienced drivers.
The RAC's safety spokesman Pete Williams backed the changes, which ministers have been consulting on this year.
He said: "While motorways are statistically our safest roads, it can be daunting using them for the first time after passing the driving test."
Mr Williams said drivers the RAC had surveyed were "overwhelmingly supportive" of motorway lessons.
AA president Edmund King said a lack of motorway experience was the "Achilles heel" of learner drivers.
"Almost half of motorists know friends or family who avoid driving on motorways."
Under changes to the practical driving test effective from 4 December, learner drivers will be tested on their ability to use a sat nav.
Drivers will also be expected to answer vehicle safety questions while on the move and complete 20 minutes of independent driving rather than 10.
---
Motorway rules
When joining the motorway give priority to traffic already on the road. Match your speed to fit safely into the traffic flow and remain in the left-hand lane long enough to adjust to the speed of traffic before considering overtaking
When you can see well ahead and the road conditions are good, drive at a steady cruising speed within the speed limit
Always drive in the left-hand lane when the road ahead is clear. If you are overtaking slower-moving vehicles, return to the left-hand lane as soon as you are safely past
Only overtake on the right-hand side, when it safe and legal to do so. In congested conditions, however, you may keep up with the traffic in your lane even if this means passing traffic in the lane to your right. Do not weave in and out of lanes to overtake
Do not stop on the hard shoulder except in an emergency
Do not reverse, cross the central reservation, or drive against the traffic flow. If you have missed your exit, carry on to the next one
Source: The Highway Code