Rough sleeping 'could increase by 76% over next decade'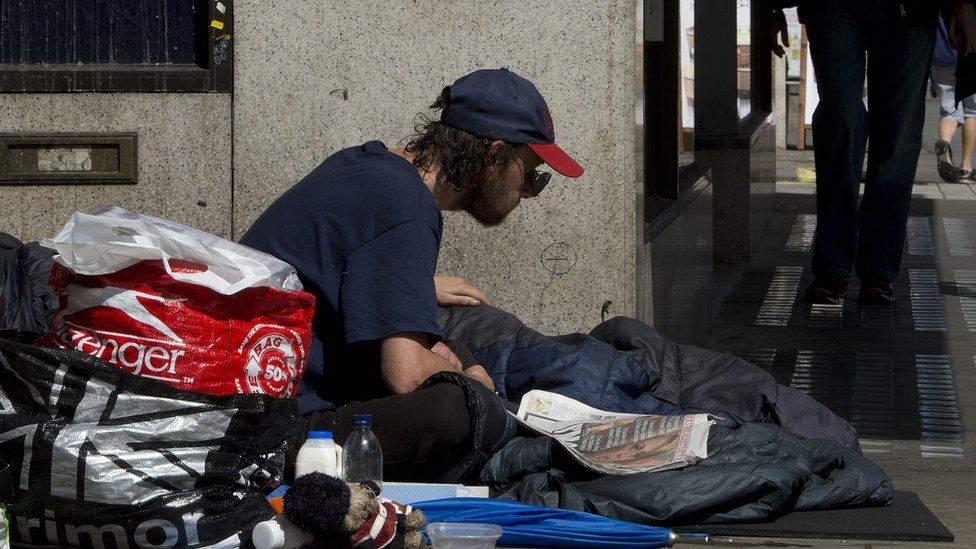 Rough sleeping in Britain could increase by more than three quarters in a decade, a homeless charity says.
The charity warned homelessness would continue rising if current government policies continue unchanged.
The government said it was investing £550 million into tackling homelessness by 2020.
Labour said the figures produced by Crisis were "a national scandal" and a result of "seven years of failure on housing".
The research - compiled by Edinburgh's Heriot-Watt University - claims 159,900 households experienced a form of homelessness in 2016.
This includes rough sleeping, living in temporary accommodation, and sofa surfing - bedding down at friends' houses.
The report predicts rough sleeping, where people are living on the streets, will increase by 76% across England, Scotland and Wales.
Crisis claims about 8,000 people in England lived on the streets in 2016, and that this number will nearly double in 2026 to 15,000.
Government statistics claim 4,134 people were categorised as rough sleepers in 2016, but Crisis says the official figure is a significant underestimate.
The government also admits the figures are subject to uncertainty as they are collected in a single night.
Government figures show the number of rough sleepers in England alone has more than doubled since 2010.
Neo, from Oxford, has lived on the streets "on and off" since the age of 18.
The 46-year-old said he was not surprised about the predicted increase in sleeping rough, and added that he had seen a rise in homelessness in Oxford after the closure of a number of hostels.
But he said: "Hostels aren't the answer, they're not nice to live in - you're forced to live with other people, some may be dangerous.
"You couldn't pay me to stay there.
"What we need is more social housing, and more affordable social housing."
Chef Barry Deighan was homeless for a year and would sleep in the doorways of flats, and on the street.
He said: "It makes you feel isolated, rejected by society.
"You encounter more aggression by members of society, and I think it's very difficult to do it day-in and day-out because you never have the opportunity to have a decent night's sleep."
Crisis chief executive Jon Sparkes said: "[The] report makes it only too clear that unless we take action as a society, the problem is only going to get worse with every year that passes.
"That means more people sleeping on our streets, in doorways or bus shelters, on the sofas of friends or family, or getting by in hostels and B&Bs."
Mr Sparkes urged "action and long-term planning to end homelessness for good".
Reality check: How do you predict a rise in homelessness?
It is a piece of very complicated statistical modelling using data on regional housing markets, labour markets, current prevalence of homelessness and recent trends, factors in changes to welfare system and then uses all this information about the situation now and in the past to predict future trends.
As a forecast there is always going to be an element of uncertainty but uses a lot of good data sources to get the best possible projection. This kind of model has been used before by the Joseph Rowntree Foundation. It has also been used by the government and is considered robust.
The predicted 76% increase in rough sleeping actually represents a slowing of the upward trend - it's doubled since 2010 .
The Department for Communities and Local Government spokesman said it was determined to help "the most vulnerable in society" through investing £550 million by 2020 to tackle homelessness.
A spokesman added: "We're implementing the Homelessness Reduction Act, which will require councils to provide early support to people at risk of becoming homeless.
"There's more to do and ministers will set out plans shortly."
But Labour's shadow housing secretary John Healey said: ""It is a national scandal that in 21st-century Britain the number of people experiencing homelessness is spiralling upwards.
"These new figures are a terrible reminder of the consequences of Conservative ministers' seven years of failure on housing.
"The number of people sleeping rough fell under Labour but has risen every year under the Conservatives and has now doubled since 2010."