British summer time: It's raining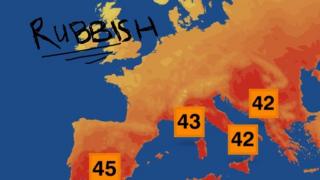 It's raining in the UK and many on social media are having fun with it.
While some parts of the UK have seen rain heavy enough to cause flash flooding, other areas are drenched in a summer downpour.
The southeast of England has been issued with a yellow weather warning for rain by the Met Office, and there are 14 warnings of flooding across England (at time of writing).
ITV London even shared a live stream of the London Eye to show more than 350,000 Facebook viewers the wet weather.
On Twitter, the offending precipitation has seen the tongue-in-cheek #BritishSummerTime hashtag trending in the UK for much of the day.
There is, perhaps, little more British than moaning about the weather, after all.
Some, responding to the rain with weary resignation, pointed out it was ever thus.
Others, noting the heatwave which has seen temperatures soar in other parts of Europe, suggested an alternative explanation for Britain's collective umbrella fumbling.
Not everywhere in the UK has been faced with a deluge, however. Festival-goers in Edinburgh were among those smugly enjoying some sunshine.
By UGC and Social News team