Reality Check: More mental health staff for the NHS?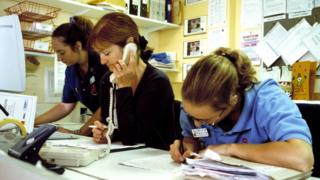 Health Secretary Jeremy Hunt has said there will be 21,000 more nurses, therapists and consultants working in mental health services in England by 2021.
But the Royal College of Nursing (RCN) has questioned whether there is enough money and how these posts are going to filled. BBC Reality Check looked at who's likely to be right.
We're talking about England because the running of health services is devolved to the other nations.
Is there enough money?
The government has pledged to spend an extra £1bn already promised for mental health services in England on the new staff.
This is not new money from the Treasury but comes from existing NHS budgets.
Experts from the Nuffield Trust, a think-tank specialising in health policy, say £1bn would be more than enough to fund 21,000 nurses. Although we don't know how many of the new jobs will be for nurses and how many will be for consultants - and of course their salaries vary widely - it seems the plan is roughly affordable, albeit with money that has to be found from elsewhere in NHS budgets.
But that still leaves the question of whether staff can be recruited to fill the posts in such a short timeframe.
How could the posts be filled?
New recruits
Giving extra training to existing qualified staff who work outside mental health
Encourage staff who have left NHS mental health services to return
Recruiting from overseas
The government has given itself a deadline of March 2021. That just about leaves time for people applying for nursing degrees next year and starting in the autumn of 2018 to complete their training and join the workforce. So it is possible some of these posts could be filled by training new nurses.
But they will not be able to rely on newly qualified nurses alone, according to Alex Bayliss, assistant director of policy at the King's Fund health think-tank.
And that's just nurses - when it comes to certain types of therapist, and to consultants, the training takes much longer. It takes about 15 years from beginning training before you can hope to become a consultant psychiatrist, for example.
While the nursing workforce as a whole shrank between 2010 and 2012 and then grew, the number of mental health nurses continued to fall - by 5,161 in total since 2010. It may be that government sees this cohort of people whose jobs were cut as a pool of talent to rehire from.
Looking overseas
Even by recruiting people who have left the NHS but want to return and from overseas, it will be a difficult target to achieve, according to Mr Bayliss.
A plan for the NHS workforce published alongside Mr Hunt's announcement by Health Education England (HEE) acknowledges that this target "cannot be met via the traditional training routes within this timescale". That's the part of the NHS responsible for making sure enough people with the right skills are trained and recruited into the health service.
HEE says NHS mental health services currently lose about 10,000 members of staff each year. This means that the health service will also need to look at how it encourages existing staff, who would otherwise have left, to stay in order to maintain the current workforce and to fill those extra posts.
But even the government's plan acknowledges that "may not be possible to fill all the vacancies by 2021".
In March 2017, the latest month we have data for, there were already 11,485 jobs for nurses and midwives unfilled. This is thought to be an underestimate since it is a count of job adverts on the NHS site, each of which can be advertising multiple posts. The worry is that simply creating new posts will not be enough when there are already many posts lying vacant.