Youth custody centres 'so unsafe a tragedy is inevitable'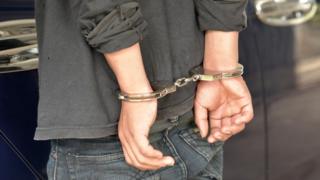 Youth custody centres in England and Wales are so unsafe that a "tragedy" is "inevitable", the chief inspector of prisons has said.
Peter Clarke wrote to ministers earlier this year, after what he says was such a "staggering" decline in standards.
Launching his annual report, he said not a single establishment inspected was safe to hold young people.
The Ministry of Justice said the safety and welfare of those in its care was an "absolute priority".
Mr Clarke said prisons for men had also become worse over the past year with "startling" increases in violence.
Some 23 hours in cells
"I have often been appalled by the conditions in which we hold many prisoners," he said, saying there has been an "imbalance" between the number of staff and adult prisoners.
"Far too often I have seen men sharing a cell in which they are locked up for as much as 23 hours a day, in which they are required to eat all their meals, and in which there is an unscreened lavatory."
But he said the "most concerning" findings emerged from inspections of young offender institutions and secure training centres, which hold about 770 under 18-year-olds.
Figures from the Youth Justice Board showed self-harm rates and levels of assaults rising, with the proportion of boys in a job or training falling.
Some 162 children said they felt unsafe in their establishment which was 41% of those who answered the question.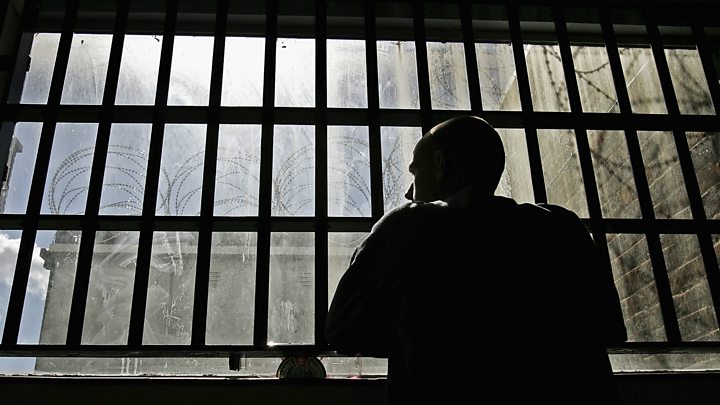 "There seems to be something of a vicious circle," he said.
"Violence leads to a restrictive regime and security measures which in turn frustrate those being held there."
The situation was so "dire", said Mr Clarke, that in February he wrote to Philip Lee, the minister responsible for youth justice, setting out his concerns.
Ten days later the government announced that a new body, the Youth Custody Service, would be established.
But the chief inspector said "time will tell" if their work can break the cycle of violence.
"The current state of affairs is dangerous, counter-productive and will inevitably end in tragedy unless urgent corrective action is taken," said Mr Clarke.
'Ministers lack interest'
He also criticised the failure of prisons to act on recommendations in inspection reports, saying there was a "huge gap" between accepting the findings and dealing with them.
Mr Clarke said that led to a "suspicion" that there was a "degree of lip service" being played to inspection reports.
With the number of older inmates increasing, Mr Clarke also suggested that a "brand new" type of prison was needed - a secure facility with specialist accommodation.
He said it could be "an old people's home with a wall around it" and had put forward the idea to ministers who had shown "interest" in it.
The Ministry of Justice (MoJ) said: "The safety and welfare of every young person in custody is our absolute priority and we are clear that more needs to be done to achieve this.
"But we also want custody to improve the life chances of children in our care and to deliver improvements to education and health services within youth custody."
'New standard needed'
It added it had created a new youth custody service and appointed an executive director to ensure problems were properly addressed.
With this appointment the number of front-line staff will be increased by 20%, the MoJ said.
The children's commissioner for England said the "damning" report highlighted "the need for very urgent action from the Ministry of Justice".
Anne Longfield said it reinforced issues she had already raised regarding the time children are locked up and the lack of education and training.
"The Youth Custody Service must now show the strong leadership required, and be given the support it needs, to turn around this unacceptable situation.
"There needs to be a new standard of well-being for children across all detention centres."