Far-right extremism: 'I'm ashamed of my Nazi tattoos'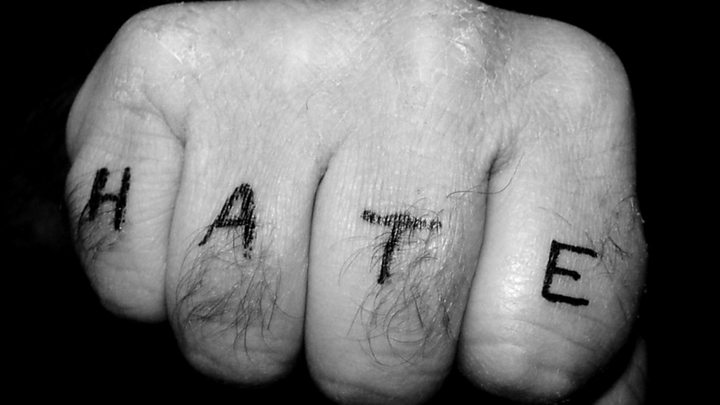 The number of far-right extremists on the UK's anti-radicalisation scheme has risen significantly, latest figures show.
"Steve", who is on the Prevent programme, says drink and drugs helped fuel his extremism.
When I met Steve, the first thing I noticed were his prominent far-right and Nazi tattoos.
I asked him to explain them to me and, as he did so, he appeared to examine his ink-stained skin with a mixture of confusion and disgust.
"Years ago I had a kind of warrior-type figure," he says, "with a very significant English shield, a weapon.
"The other one here says 'English Martyr'," he says, adding that "more recently and more dangerously I had two Waffen-SS tattoos on my fingers".
Steve has asked us to disguise his identity to keep him safe from his former associates.
He tells me the tattoos no longer represent his political views and that things changed six months ago, when he was picked up by counter-extremist authorities.
He now receives intensive de-radicalisation counselling via the Channel programme, part of the government's counter-extremism strategy, Prevent.
Last year, far-right extremists accounted for one-third of all referrals to Channel - which very rarely gives access to those on it - up from a quarter in 2015.
The Home Office says in some areas, far-right referrals "account for more than half" of all those sent on the scheme.
Steve says his fascination with extremism began in his childhood.
"As a child a lot of my friends would have Action Men dressed up in British military costume.
"I'd always go for stormtroopers or any kind of Germanic influence. I felt they were the underdog," he says.
"As I grew, I liked the power element and the ruthlessness of the Nazi regime.
"I always told myself that the only thing I didn't like about the Nazi regime was the way they treated the Jews."
As he got older, he says his markings became an attempt to be taken seriously by those with hardened far-right views,
"The kind of language I was using at the time, it was evidence that it was the real deal, the real thing. It wasn't just idle chit-chat in pubs saying right-wing mantra."
Steve has mental health issues. He is an alcoholic and occasional cocaine user.
"Your ability to make wise decisions is blurred," he says, when asked about his addictions.
"I was in the company of people who were quite happy to jump on a bus to the next EDL march. I'd be on my merry way just to fit in with people."
"It could be a simple phone call," he adds. "You could be quite innocently be sitting in a pub, playing darts, chatting, and the next minute there's a phone call and there's a minibus on the way."
The call would come from someone in his social circle, he says, someone saying "there's a march on 10 miles away, let's go for a drink and see what's happening".
He is currently receiving counselling for his substance abuse and interest in far-right ideas.
'Surreal' experience
Prevent operates in the so-called pre-criminal space. In other words, it aims to identify people before they commit a terrorist act.
Steve has not been convicted of any racially-aggravated crimes or terrorist offences. He says he has given money to a far-right political party, but was not a registered member.
Six months ago, his life took "a surreal turn" when he ended up with a dedicated counter-terrorism unit officer assigned to him.
"During the worst moment of my drinking, I went to A&E on several occasions, where I believe I was being quite abusive in the reception area.
"I was carrying around a book lots of people consider dangerous - called American Psycho - a book full of violence and nasty stuff."
Steve says the drinking and drug abuse meant what happened next remains hazy.
"I found myself in my flat, surrounded by policemen, and the counter-terrorism unit identified themselves. I realised, I was in some kind of serious trouble."
It is, controversially, now a requirement that hospital staff report those they believe to be at risk of radicalisation to the authorities.
Steve cannot remember for sure whether this happened in his case. But he now receives intense one-to-one counselling funded by Channel, an arm of the Prevent strategy.
His mentor, Mohammed Ashfaq, founded a drug and alcohol charity.
He says he has conducted de-radicalisation work with Islamist and far-right extremists. He argues Prevent is a vital tool in safeguarding vulnerable individuals - including, he adds, people like Steve.
"People were trying to use his vulnerability to drugs and other underlying mental health issues, knowing full well he was easy to prey on, easy to manipulate and easy to go and do something for them."
He says Steve was the victim of organised psychological groomers.
"This is how extremists work. They prey on the most vulnerable. They groom them and then go out and get them to do their dirty work."
'I'm ashamed'
Steve has been sober for six months. He's left the predominantly white market town where he grew up.
His social circle perpetuated what he calls an ever-decreasing circle of alcohol, drugs and tolerance of racist attitudes - and a discourse littered with racist terms.
As he looks at his skin again, I ask Steve how he feels now about his Nazi and far-right tattoos.
He takes a long pause and says: "It's like another world. It is what it is. It's probably the most embarrassing and unforgiving thing I've ever done in my life.
"And I'm ashamed."