Labour: Paying student debt 'an ambition'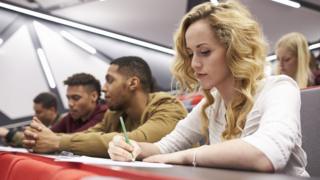 Labour has an "ambition" to pay-off university students' historic debt as well as abolishing tuition fees, according to its shadow chancellor.
Appearing on the Andrew Marr Show, John McDonnell denied that Labour had watered down a pre-election pledge to "deal with" graduate debt.
He said: "We're going to try to. It is a real ambition of ours. I don't want to promise something we can't deliver."
Labour promised in its manifesto to scrap university tuition fees.
Labour leader Jeremy Corbyn also appeared in the New Musical Express (NME) magazine on the day of the general election, stating he would examine ways to help students who had already paid fees and were burdened with "massive debt".
He said, at the time: "I don't see why those that had the historical misfortune to be at university during the £9,000 period should be burdened excessively, compared to those that went before or those that come after. I will deal with it."
Pressed on whether Labour was now rowing back, Mr McDonnell told the Marr show: "It wasn't a promise. What Jeremy said was we're going to try and tackle this issue. One of the reasons we've got to tackle it is because the system itself is collapsing."
However, Education Secretary Justine Greening accused Labour of a U-turn.
She said: "Jeremy Corbyn and Labour have not been honest with young people. During the election campaign, Mr Corbyn promised students he would wipe out tuition fee loans, at a cost of £100 billion.
"Now his chief lieutenants have U-turned on this commitment and young people will see it as a betrayal."
'Falling apart'
The shadow chancellor said Labour was committed to its manifesto promise to "reintroduce maintenance grants for university students", adding "we will abolish university tuition fees".
The cost of abolishing tuition fees has been calculated at £9.5bn. On top of this, paying off student debt would cost £100bn, which Mr McDonnell conceded was "a lot of money".
Mr McDonnell said: "Let me just be clear, we said in our manifesto that we'll scrap tuition fees. We'll scrap tuition fees. If we can help them deal with the debt, we certainly will do.
"To be frank, whoever is in government has to tackle this."
The Student Loans Company recently reported that debt had surpassed £100bn for the first time, after rising by 16.6% in the year to March. In England, the average graduate has £32,220 worth of debt which they start repay once they begin earning more than £21,000 a year.
Mr McDonnell said: "Half of these student debts we now know are not going to be paid back, so the system itself is falling apart, we've got to look at the system."