Prison Service finds 225kg of drugs in one year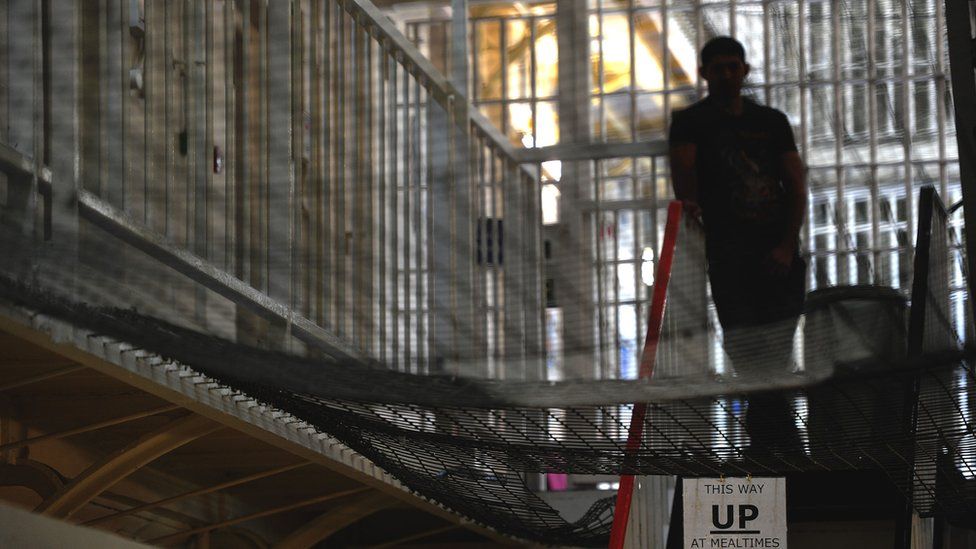 Prison officers have confiscated 225kg (about 500lb) of drugs in one year in England and Wales, according to the Ministry of Justice.
In 2016, 13,000 mobile phones and 7,000 Sim cards were also seized from prisoners.
The haul comes after new mobile phone detectors were introduced, as well as 300 specialist dogs for drug detection.
New Justice Secretary David Lidington said he was not content with the state of prisons, and hoped to improve them.
Four weeks into his new post, Mr Lidington told BBC's Andrew Marr show that he planned to put in place "effective measures" to more accurately detect drugs, phones and drones.
In recent years, legal highs - or psychoactive drugs - had become a problem, he said, as the prison population had shifted in character to include more gangsters and a higher proportion of sexual and violent offenders.
The government's National Offender Management scheme previously said that by using mobile phones, inmates had: "commissioned murder, planned escapes, imported automatic firearms and arranged drug imports".
Shadow Justice Secretary Richard Burgon said it was "clear that we have a crisis" and blamed the findings on cuts to prison budgets.
Director of the Prison Reform Trust, Peter Dawson, said the Prison Service should consider giving prisoners legitimate access to mobile phones as they helped people "cope with the experience" and prepare for release.
"It's in all our interests that people retain their family ties and the phone is an obvious way of doing that," he said.
Mr Dawson said it was "pointless" tracking down inmates who used a mobile to "call their mum" rather than for criminal purposes.
Former prisoner Alex Cavendish, who was released in March 2014, said the contraband haul was the "tip of the iceberg".
He told BBC Radio 5 live that cuts to staffing budgets and "corrupt" prison officers were to blame, adding: "It's really proving a struggle to keep these things out of prisons."
Dave Todd of the Prison Officers Association conceded that "you get corruption" in the prison workforce, but added that a lack of experienced staff "destabilised regimes".
"It needs addressing fundamentally by recruitment and retention of prison officers," he told BBC One's Breakfast, adding: "New prison officers may be compromised by threats, they may be taken in by financial gain, which is not acceptable and my union doesn't defend those people."
In February, a reporter from BBC's Panorama programme went undercover at HMP Northumberland, where he found a number of inmates incapacitated from taking the drug spice.
In 2016, more than 45% of prisoners in a survey conducted by the HM Inspectorate of Prisons said it was easy to get drugs behind bars.
The overall number of staff employed across prisons has fallen from 45,000 to just under 31,000 in September 2016.
Mr Lidington said the government planned to have 2,500 new officers trained and in place in England and Wales by the end of next year - 500 of whom were already working.
He said that at the cabinet table he would push forward "very vigorously" with a programme for prison reform and measures to increase security and reduce violence.
The Ministry of Justice also said prisons were working to curb the use of drones in delivering phones and drugs, by creating "a specialist squad of prison and police officers".
To date, 35 people have been arrested and 11 others have been convicted for drone-related activities.
The department began rolling out tests for psychoactive substances at prisons in September 2016.
It is also working with mobile network operators to develop ways of blocking mobile phone signals in prisons.