Grenfell Tower: Retired judge to lead disaster inquiry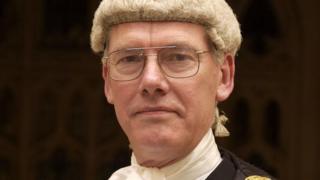 Retired Court of Appeal judge Sir Martin Moore-Bick has been chosen to lead the public inquiry into the Grenfell Tower fire, the PM has said.
Sir Martin said he understood the "desire of local people for justice", while Theresa May said "no stone will be left unturned" during the inquiry.
Grenfell resident Oluwaseun Talabi said victims were unhappy at not being involved in Sir Martin's appointment.
Police said 80 people are now presumed dead after the disaster, on 14 June.
However, they warned the final death toll will not be known until at least the end of the year.
In a statement, Sir Martin said the inquiry would seek to discover the truth about what happened at Grenfell Tower, "so that we can learn lessons for the future".
He said the inquiry must be "open, transparent and fair" to all those involved.
It should "establish as quickly as possible the cause of the fire and how it was able to spread so quickly", he added.
Following the announcement, he met local residents and police at Grenfell Tower.
Mrs May told MPs she expects Sir Martin will want to produce an interim report "as early as possible" to address the immediate lessons from the fire.
"I am determined that there will be justice for all the victims of this terrible tragedy and for their families who have suffered so terribly," she added.
Joe Delaney, from the Grenfell Action Group, said the fire was "a criminal matter" and doubted whether the inquiry could deliver what residents wanted.
He said he was willing to give the inquiry the benefit of doubt, but warned residents' patience was "wafer thin".
But Mr Talabi - who fled the burning building with his partner and four-year-old daughter - added: "We need a criminal judge. We need serious justice and this man isn't going to give us any justice."
The Metropolitan Police has previously said it will investigate "all criminal offences that may have been committed".
Who is Sir Martin?
Born in Wales and educated at Christ's College, Cambridge, his career has spanned nearly five decades after being called to the Bar in 1969.
As a lawyer, he specialised in commercial law which involved dealing with disputes relating to maritime and land transport of goods.
Sir Martin went on to spend more than 20 years as a judge of the Commercial Court and Court of Appeal until his retirement in 2016.
However, Grenfell residents have already pointed to a case in November 2014, in which Sir Martin ruled Westminster City Council could rehouse a single mother-of-five more than 50 miles away in Bletchley, near Milton Keynes.
The decision was overturned by the Supreme Court in April 2015.
Leading barrister Michael Mansfield QC, who has met survivors of the fire, said it was "unbelievable that lessons are not learned" from the Independent Inquiry into Child Sexual Abuse, which is now on its fourth chairman.
He said that inquiry "did not consult with the families and the survivors" and "the same thing seems to have happened all over again".
Who are the Grenfell victims?
Eighteen people have been formally identified by the coroner, but not all names have been released.
The opening of inquests into seven of the victims heard six-month-old Leena Belkadi was found dead in her mother's arms.
Most of those who died in the fire were said to be in 23 of the North Kensington tower block's 129 flats.
Some residents tried to move up the building to escape the flames - and it is thought a number may have ended up in one flat.
Police are tracing victims via "every imaginable source" of information; from government agencies to fast food firms.
Residents' frustration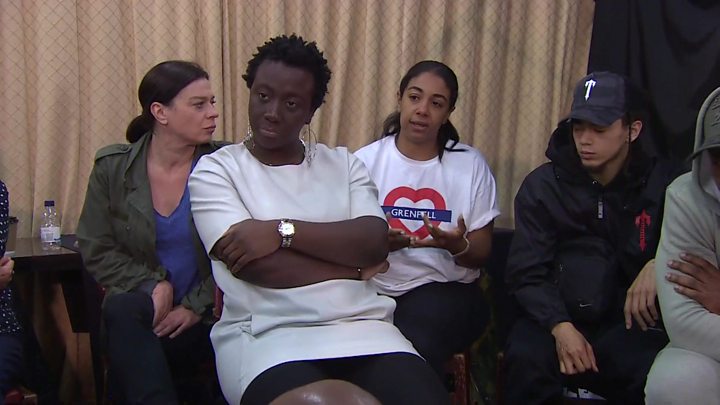 Survivors and relatives of those who died have expressed frustration at not getting the help and support they need.
They confronted housing minister Alok Sharma MP on the BBC's Victoria Derbyshire programme on Wednesday, two weeks after the fire.
Victims described the problems they had faced in being rehoused; trying to replace burned documents; accessing funding and being unable to return to work.
The minister said people would be offered a suitable place to live within three weeks of the fire.
Cladding test failures
Questions were raised about the cladding used on Grenfell in the immediate aftermath of the disaster, which led to a nation-wide operation to test buildings with similar cladding.
On Thursday, the prime minister said cladding from 137 high rise buildings has now failed safety tests in 41 local authority areas.
This was a 100% failure rate, she told MPs.
An expert panel to advise on immediate safety action has been appointed following the safety failures.
What is a public inquiry?
By Brian Wheeler, BBC News
Public inquiries are set up for many reasons. Sometimes they are designed to expose the truth after a controversy, or apportion blame to individuals.
More often, they simply produce recommendations, which the government can choose to follow or not. Recent examples include Leveson, into press standards, and Chilcot, into the Iraq War.
They differ from police investigations because they are conducted, in part at least, in public. They might even be televised.
They can be run by a judge, with witnesses giving evidence under oath, but there is no fixed model. Much depends on the "terms of reference".
They can also drag on for years and cost millions of pounds - although the government says it wants the Grenfell Tower inquiry to "move with speed".
---