London fire: Grenfell victims 'not being forced to move away'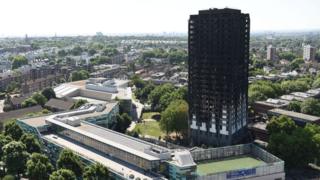 Victims of the Grenfell Tower fire are not being asked to move hundreds of miles from their homes, the team organising the emergency response says.
The Grenfell Response Team also said it was not aware any victims were sleeping in parks and denied claims some could be made "intentionally homeless".
Labour MPs have raised concerns some people are sleeping rough and others being offered housing in Lancashire.
It comes as a doctor said some victims will take "months" to recover.
Fourteen people are still in hospital after the fire, including eight receiving critical care and some in induced comas, NHS England has said.
Police have said the number of people dead, or missing presumed dead, currently stands at 79.
'Headless chickens'
Labour MP for Kensington, Emma Dent Coad, said the co-ordination of the response to the fire had been "appalling", with "people running around like headless chickens".
She told BBC Radio 4's The World at One that she had heard "countless reports" of people who had lost their homes in the fire now sleeping rough.
People "are too scared to come forward because of worries over their immigration status", she added.
It comes as Labour MP for Tottenham, David Lammy, said he had heard victims of the blaze had been "threatened" with being declared "intentionally homeless".
People are made intentionally homeless if they leave accommodation they could have stayed in - meaning their local council does not have to provide them with housing.
Mr Lammy tweeted that he had heard survivors could be made intentionally homeless if they turned down accommodation offers - some 200 miles away, in Preston, Lancashire.
However, the official Grenfell response team - made up of council and government staff, charity workers, the police and fire service - rejected the claims.
In a statement, the response team said it was not aware of any victims living in parks, that nobody was being forced into accommodation, and people were being homed "as locally as possible".
Some 138 hotel placements have been made for people living in Grenfell Tower and Grenfell Walk, it added, while 112 additional residents from the wider area are now in hotels.
"No-one is being forced into housing they don't want. We will continue to work with everyone until we find them an offer of housing that they accept," it said.
Emergency payments
It said people were being "temporarily housed in hotel accommodation in or close to the Royal Borough of Kensington and Chelsea".
More than £330,000 of a £5m emergency fund has been distributed to the affected families, the response team added.
It said 314 people have now received financial assistance, while 40 households have been given a £5,000 government payment.
The government has offered £500 cash payments along with a £5,000 bank payment to those affected, as part of a £5m emergency fund.
One week on from the fire, King's College Hospital clinical director Duncan Bew said some victims were being kept in an induced coma after the fire.
He said staff had expected to see "hundreds" of patients with a range of injuries, including burns, smoke inhalation and caused by people "jumping from windows".
"We knew there were many more people in the building. As time went on and we realised that we weren't going to receive those casualties, it was very sad," he added.
Elsewhere in the UK:
A charity single, organised by Simon Cowell and featuring Robbie Williams, The Who and Jessie J, will be released on Wednesday. The version of Simon and Garfunkel's Bridge Over Troubled Water will raise money for those affected
Sheffield City Council has announced it will be fitting sprinklers in all 24 of its tower blocks
A Scottish Government ministerial working group agreed to have firefighters visit high-rise buildings, review standards of detectors and consider assess sprinkler systems in tower blocks
World number one men's tennis player Andy Murray is to donate the £12,000 he earned in prize money playing at the Aegon Championships at London's Queen's Club, where he was beaten in the first round
Meanwhile, officials have said some victims are "reticent" to come forward and help the investigation into the fire due to concerns over their immigration status.
Victoria Vasey, director of North Kensington Law Centre, told BBC Radio 4's The World at One it is "imperative" people feel safe to come forward.
The Home Office told the programme it will "not use this tragic incident as a reason to carry out immigration checks on those involved".
"We will not charge people who need to replace documentation that has been lost in the fire," it added.
Five of the victims have so far been named.
Anthony Disson, 65, Ya-Haddy Sisi Saye, 24 - also known as Khadija Saye- Abufars Ibrahim, 39, and Khadija Khalloufi, 52, were identified on Monday.
Mohammad Alhajali, 23, was the first victim to be formally identified.
Meanwhile, the BBC has learned that four separate government ministers were warned fire regulations were not keeping people safe.
In leaked letters seen by BBC One's Panorama, experts warned that those living in tower blocks like Grenfell Tower were "at risk".
The Department for Communities and Local Government, which received the letters, said work to improve regulation and safety had already been under way.
It comes as police warned the final number of victims from the fire in the 24-storey block could still change.
Commander Stuart Cundy said his priority was to identify the people who died in the building and to recover their bodies as quickly as possible.
Get news from the BBC in your inbox, each weekday morning
Have you or your family been affected by the fire at Grenfell Tower? If you are willing to speak to a journalist you can email us at haveyoursay@bbc.co.uk
You can also contact us in the following ways: