Brexit: 2018 Queen's Speech cancelled by government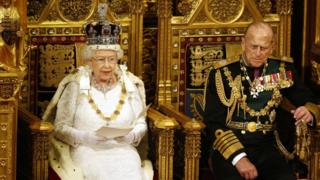 There will be no Queen's Speech next year to give MPs more time to deal with Brexit laws, the government says.
Leader of the Commons Andrea Leadsom said the next parliamentary session was being doubled in length to two years.
The unusual move would allow MPs to scrutinise "substantial amounts of legislation", she said.
This year's Queen's Speech was due on Monday but has been put off until Wednesday as Theresa May's minority government seeks a deal with the DUP.
'Broad consensus'
The Queen's Speech traditionally takes place during the ceremonial State Opening Of Parliament, setting out the government's proposed legal programme for the coming year.
The last time it was cancelled was in 2011 by the then Conservative-Liberal Democrat coalition government.
That decision, the first time it had been taken since 1949, was criticised at the time by Labour as an "abuse of power" aimed solely at easing the passage of controversial legislation.
Announcing the scrapping of the 2018 event, Mrs Leadsom said the European Union exit legislation would begin with the "Great Repeal Bill".
She said: "We will build the broadest possible consensus for our Brexit plans, and that means giving Parliament the maximum amount of time to scrutinise these bills by holding a two-year session of Parliament.
"It will mean we can work together to deliver a successful Brexit deal and a strong social legislative programme that delivers justice and opportunity to everyone."
The government also wanted to pass "a domestic agenda which aims to tackle the social injustices in our country", she added.
Repeal bill
Speaking on the BBC's Sunday Politics, she insisted the move was not motivated by fears the 2018 Queen's Speech could have been defeated by MPs.
"That is absolutely not the reason for doing this," she said.
"The issue is that we have an enormous job to do to make a success of Brexit."
At the heart of the legislation needed for Brexit is the so-called Great Repeal Bill, which will convert existing EU law into UK legislation.
Ministers will then decide which parts to keep, and have promised that all existing workplace protections will be maintained.
Following the general election, Labour leader Jeremy Corbyn said the bill would now become "history" - and that there would be "something different" in a few weeks' time.
But asked whether Labour would support the bill in the Commons, Sir Keir Starmer, Labour's Brexit spokesman, told the Andrew Marr Show: "We haven't seen it yet. The principle of entrenching EU rights and freedoms is one that we would support."