London fire: Who are the victims?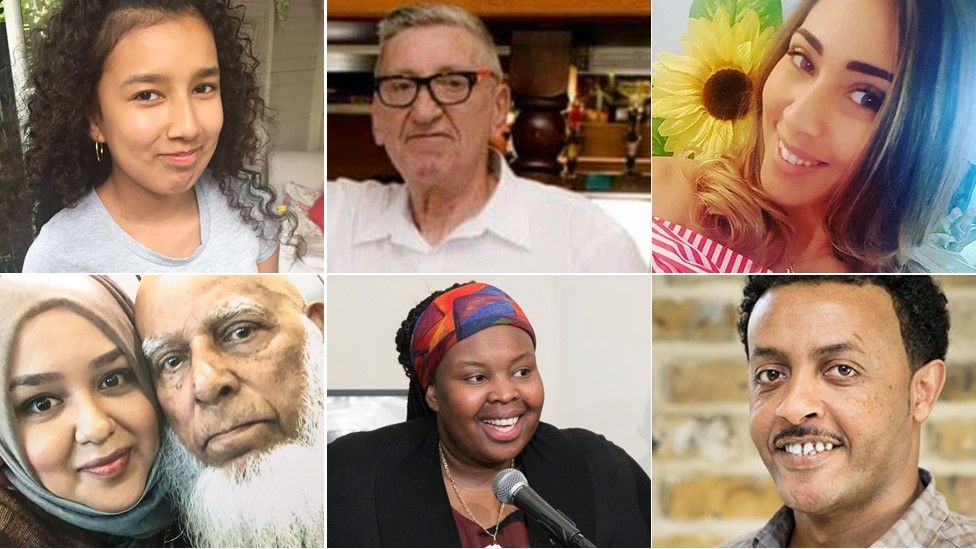 Police believe at least 80 people died when fire engulfed Grenfell Tower, in North Kensington, London in the early hours of 14 June.
Eighteen people have been formally identified by the coroner, but not all names have been released.
Police say the final death toll may not be known until at least the end of the year, when the search and recovery operation is over.
Other people, while not yet formally identified, have been confirmed as among the dead or missing by family or friends.
In an attempt to identify those who might have died, police say they have spoken to at least one person from 106 of the 129 flats in the tower block.
Det Ch Supt Fiona MacCormack said there remained 23 flats where "despite huge investigative efforts, we have been unable to trace anyone".
"We presume no-one survived," she said.
Those confirmed dead named so far
Belkadi and Hamdan family
Six-month-old Leena was found dead in her mother's arms.
She died alongside her father, Omar Belkadi, and mother, Farah Hamdan, in a stairwell outside their flat on the 20th floor.
Malak Belkadi, eight, died in hospital after she was recovered by firefighters in the building.
The family are survived by six-year-old Tazmin who was found alive in hospital.
Farah's cousin Adel Chaoui told the BBC that Farah called her sister while the fire was raging to ask for advice.
"When we told them to get out, Farah said she was told to stay put, not to go anywhere. That was the last we heard" he said.
Anthony Disson, described as the "heart and soul" of his family, was a 65-year-old retired lorry driver who lived on the 22nd floor of Grenfell Tower.
Mr Disson, who had lived in the property for eight years, phoned his son at 03:30 and said he was being told to stay in his flat.
"Losing him has left a void that can never be filled," Mr Disson's family said in a statement.
"Tony was the most generous person you could ever meet, he didn't have much but would always be there to help people.
"He had a good life so to lose him in such a tragic way has made the loss hard to bear. We as a family are simply heartbroken."
Mr Disson is survived by four sons, five grandchildren - with a sixth due in September - and three great-grandchildren.
Five-year-old Isaac Paulos has been described by his family as a "kind, energetic, generous little boy".
In a statement, they said: "He was such a good boy who was loved by his friends and family. We will miss him forever, but we know God is looking after him now and that he is safe in heaven."
He was a pupil at Saint Francis of Assisi Catholic Primary School and lived in Grenfell Tower with parents Genet Shawo and Paulos Petakle, and his three-year-old brother, Luca.
His family had moved to the UK from Ethiopia.
Isaac became separated from his family in the smoke after they fled their flat on the 18th floor.
Artist and photographer Khadija Saye, 24, also known as Ya-Haddy Sisi Saye, whose work is being shown in the Venice Biennale, lived on the 20th floor with her mother, who also died.
She was found by investigators on the ninth floor of the block and an inquest into her death was opened on 26 June.
Labour MP David Lammy wrote on Twitter: "May you rest in peace Khadija Saye. God bless your beautiful soul. My heart breaks today. I mourn the tragic loss of a wonderful young woman."
Khadija's work was based on Gambian spiritual practices and British art gallery Tate Britain has displayed one of her works after learning of her death.
She had written on Facebook: "It's been a real journey, tears shed, highs and lows, but mama, I'm an artist exhibiting at the Venice Biennale and the blessings are abundant!"
The Khadija Saye Memorial Fund has been launched by her mentor Nicole Green to fund opportunities for young, emerging artists.
Mary Ajaoi Augustus Mendy
Khadija Saye's mother, Mary Mendy, also died.
The 54-year-old, who was also known as Cissy, was found in the lobby on the 13th floor. She died from smoke inhalation.
He had been in a 14th floor flat with his brother Omar, but the pair lost each other in their attempt to escape.
Mohammed then returned to the flat and tried to call family members in Syria but could not get connected to them.
An inquest found that he died from injuries consistent with falling from a height.
His funeral was attended by family members who flew to the UK from Syria and Mayor of London Sadiq Khan.
His family have described him as a "a very amazing and kind person".
"He came to the UK because he had ambitions and aims for his life and for his family.
"His very last words to us were how much he missed us.
"Ever since he moved away from us, we tried to be united with him and his brothers, and now, instead, we have been united by his body," the family said in a statement.
Mohamed Neda died after trying to help people on the 23rd floor, where he lived.
The 57-year-old was found outside Grenfell Tower and died from injuries consistent with a fall.
In a Facebook appeal, family friend Ariana Neumann Rodger said he had been "last seen on the stairwell injured and helping neighbours".
It is believed that Mohamed Neda's wife and son fled the blaze and are severely injured.
Three members of Mohamed's family attended an inquest into his death that opened on 28 June.
Mohamednur Tuccu, a British national from Eritrea, was visiting friends or family at Grenfell Tower to break Ramadan fast with his wife Amal Ahmedin and three-year-old daughter Amaya.
His body was recovered from the grounds close to the tower.
A colleague at the Red PR consultancy - where Mr Tuccu worked as a security guard for 10 years - said he was due to win an award for his service to the company.
Mother and daughter Rebeya, 64 and Husna, 22, died on the 17th floor, where their flat was.
Husna called her cousin Abdur Rahim, who lives close by in Kensington, at 01:30, saying there was a lot of smoke and they were stuck inside their flat. They were last heard from at 03:00.
Husna was due to get married on 29 July.
She and her mother lived with relatives Kamru Miah, 87, Mohammed Abdul Hamid, 28, and Mohammed Abdul Hanif, 26, but it is not clear what happened to the three men.
Abufars Ibrahim, 39, was confirmed to have died by police.
Mr Ibrahim is believed to have been visiting his mother Fathia Alsanousi, 72, and sister Esra Ibrahim, 32, who are missing.
Khadija Khalloufi, 52, lived on the 17th floor with her husband, Sabah Abdullah.
Mr Abdullah told the BBC that since the fire the council has moved him from a hotel to an old people's home despite his objections. He is the only resident from Grenfell Tower living there.
Abdeslam Sebbar, 67, lived on the 11th floor, and was named by police as among those who had died in the fire from inhalation of fumes.
Ali Yawar Jafari, 81, lived on the 11th floor with his wife and daughter.
Another daughter, Nadia, was visiting when the fire broke out and got into the smoke-filled lift with him and her mother.
But they separated on the 10th floor when Mr Jafari stepped out.
He was later pulled from the building by firefighters, but pronounced dead at the scene.
Mr Jafari had lived in the tower for 16 years. He was a father of six children and seven grandchildren.
His son Hamid said he had a heart condition and difficulty walking. The provisional cause of his death death was given as "inhalation of fire fumes", with a secondary cause of coronary and hypertensive heart disease.
Gloria Trevisan and Marco Gottardi
Mr Gottardi and his girlfriend Ms Trevisan were both architects living on the 23rd floor of Grenfell Tower.
Mr Gottardi, from a town near Venice, had called his father during the fire, telling him the flat was full of smoke.
Ms Trevisan, 26, from the city of Padua, had told her mother they were unable to leave because they could see flames coming up the stairs and the smoke was getting more intense.
The opening of an inquest into her death heard Ms Trevisan was found in her flat. The cause of her death was "consistent with the effects of fire" and she was identified by her dental records.
Mr Gottardi's inquest is yet to open.
Families appeal for the missing
Appeals have been made on social media for news of missing friends and family, and posters have been pinned up around the neighbourhood.
An emergency number - 0800 0961 233 - has been set up for anyone concerned about loved ones.
A number of individuals believed to have been living or staying on the 23rd floor have been reported missing.
Rania, Hania and Fathia Ibrahim
Rania Ibrahim, 30, lived in the tower with her two daughters Rania and Fathia, and her husband, who was in Egypt on the night of the fire.
It is believed that friends from lower floors of the building joined the family as the fire took hold.
She recorded a live video of smoke filling their flat.
Funeral prayers or janazah-tul-ghaib were held for Rania, Hania and Fathia on 23 June.
Rania's sister, Rasha Ibrahim, posted on Facebook pictures of them together, saying: "I never believed my sister would die before me. May she spend eternity in paradise."
Raymond Bernard, known affectionately as Moses to friends, lived on the 23rd floor.
Friends have put up posters of Mr Bernard asking for information about his whereabouts.
"There are a lot of people grieving for him, and he was a very loving man.
"He always used to make sure that people were cared for," a friend, Michael, said.
Fathia Alsanousi and Esra Ibrahim
Fathia Alsanousi, 72, and her daughter Esra Ibrahim, 32, are missing.
Ms Alsanousi's son Abufars Ibrahim, 39, was confirmed to have died by police.
Mr Ibrahim is believed to have lived elsewhere and was visiting his mother on the night of the fire.
Hesham Rahman, 57, lived alone on the 23rd floor.
His sister, Noha, wrote on Twitter on Friday that she still had no news.
"We are so desperate" she said.
Six members of the Choucair family lived on the 22nd floor.
Sawsan Choucair fears they are dead. Her mother Sirria, sister Nadia and brother-in-law Bassam are missing, as well as children Zainab, Fatima and Mierna aged three, 10 and 13.
Mariem Elgwahry, 27, is a marketing manager who is believed to have last spoken to someone at 02:30.
Her friend posted this picture with the message: "Seeking any information on our missing friend. She was on the 19th floor."
Hashim Kidir, Nura Jamal and their three children Firdaws, Nura and Yahya were all missing, Hashim's brother Redwan told the BBC.
The Philippines Embassy, in London, has appealed for information about 79-year-old Ligaya Moore, who lived on the 21st floor.
Five members of the El-Wahabi family are missing. Sanaa Jones says they are her uncle Abdul Aziz, 52, his wife Fouzia, 42, son Yasin, 21, daughter Nur Huda, 15, and youngest son Mehdi, eight.
Mehdi is a pupil at Oxford Gardens Primary School, in North Kensington.
In a letter to parents on Wednesday, head teacher Sarah Cooper wrote: "It is with great sadness that I write to you today to tell you that we have had no news of Mehdi and his family and we are being advised by the police that in all likelihood they have died in the fire".
Sanaa's other aunt, her husband, and two children - who also live in the same block - were able to escape from the sixth floor, but the El-Wahabis were on the 21st floor.
"My aunty told my uncle to get out but there was a lot of smoke," she said
"My uncle got on the phone to the fire brigade, who advised him to stay inside and to shut the door, and put blankets down around 02:30 BST.
"That's the last time we heard from them.
"I went to one hospital, my cousins went to other hospitals. There is nothing and they are not there.
"It's very distressing time at the moment. We have to try to keep strong," she added.
The family of Jessica, aged 12, say they are desperate for news about her whereabouts.
Jessica's parents had not been in their 20th floor flat when the fire had started and had received calls from Jessica calling for help, Adriana Urbano told the Telegraph.
Mrs Urbano says she told her daughter to run as fast as possible down the stairs.
She has heard nothing since then, and Jessica's aunt Ana Ospina says they have been calling hospitals as they believe she may have been taken in for treatment.
Deborah Lamprell, 45, is believed to live on the 19th floor. A family friend said she would always text her mother when she returned home from work.
The last text message Ms Lamprell sent her mother was at about 23:30 BST on the evening of the fire. She has not been heard from since.
Ms Lamprell's cousin made an appeal on Facebook for information. She posted: "Dear friends, I am desperate for your help. My cousin Deborah Lamprell lives in Grenfell Tower.
"We haven't had any news and don't know if she's been rescued and in hospital."
Marjorie and Ernie Vital are also thought to live on the 19th floor of Grenfell Tower.
Marjorie's brother Macleod says it has been an intense time for the family who are very distressed and concerned.
He said he had been visiting hospitals and centres to try to locate his sister and nephew.
Amal Ahmedin (also known as Samia) and three-year-old daughter Amaya were in the building visiting friends or family to break their Ramadan fast.
Mo Tuccu, Amal's husband and Amaya's father, was confirmed on 26 June to have died.
Mother and son Brkite and Biruk Haftom lived in flat 155 of Grenfell Tower.
Family friend Dejan Araya says Brkite's sister and friend have been searching hospitals for news of their whereabouts and are inconsolable.
Dejan Araya said the last time there was any contact with them was at around 22:00 BST on the night of the fire.
Sakineh Afrasehabi and Fatima Afrasiabi
Two sisters from the same family have not been since the fire.
Sakineh Afrasehabi lived on the 18th floor. Her sister Fatima Afrasiabi went to visit her on Tuesday night.
Their family believe they went up to the 23rd floor to escape smoke from the fire.
"My brother was on the phone to our mum while it was happening - we haven't heard much from the authorities since," Sakineh's daughter, Nazanin, said.
Iranian-born Hamid Kani, 61, lived alone in flat 154. A London-based family friend says his relatives in Iran are devastated as they cannot reach him.
They have been trying to get information from hospitals but have not been able to locate him.
The family friend - who wishes to remain anonymous - said it has been a stressful and painful time for the whole family.
Komru Miah, who is aged nearly 90, and two brothers Abdul Hamid 28, and Abdul Hanif 25, are missing.
Relatives Rebeya and Husna Begum were confirmed by police to have died in the fire.
A family member, Mr Nurul Islam, expressed his anger that he feels the council and government are providing insufficient help and resources on the ground at Grenfell Tower.
"Where are government officials? Where are council officials?" he said.
"There isn't any leadership or co-ordination - the Red Cross and Muslim Aid are here, but they are charities, they are not people who've been elected to support us in times of need."
Steven Power, 63, lived on the 15th floor.
A family member confirmed he has not been seen since the fire.
Zainab Deen, 32, and her son Jeremiah, aged two, are missing. It is believed they lived on the 14th floor.
Ms Deen was born in Sierra Leone.
Zainab's father, Zainu Deen, and her stepmother, Maria Deen, told the BBC their family were devastated.
Mr Deen gave a DNA sample to the police following the fire.
The family of 56-year-old Denis Murphy say they last heard from him in the early hours of Wednesday sometime between 01:30 and 02:00.
He called from his flat on the 14th floor and said he couldn't breathe because of the smoke.
His family say they have not heard anything since and have been frantically contacting hospitals and care centres.