Prince William in Trooping the Colour rehearsal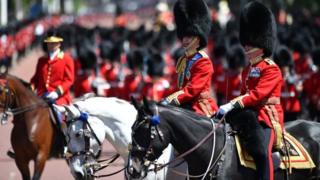 The Duke of Cambridge has taken part in the military rehearsal for the Queen's Birthday Parade, also known as Trooping the Colour, for the first time.
Tourists may have caught a glimpse of the future monarch in uniform riding his horse Wellesley in The Mall.
As Colonel of the Irish Guards, Prince William inspected the troops ahead of the parade on 17 June.
More than 6,000 spectators watched the inspection in Horse Guards Parade.
There were more than 200 military horses on parade and 400 musicians.
Trooping the Colour has commemorated the birthday of the sovereign for more than 250 years.
It also functions as a display of army drills, music and horsemanship.
The Duke of Cambridge became the Colonel of the Irish Guards in 2011.
The last time the battalion trooped the colour in front of the Queen was in 2009.