London Bridge attack: Who were the victims?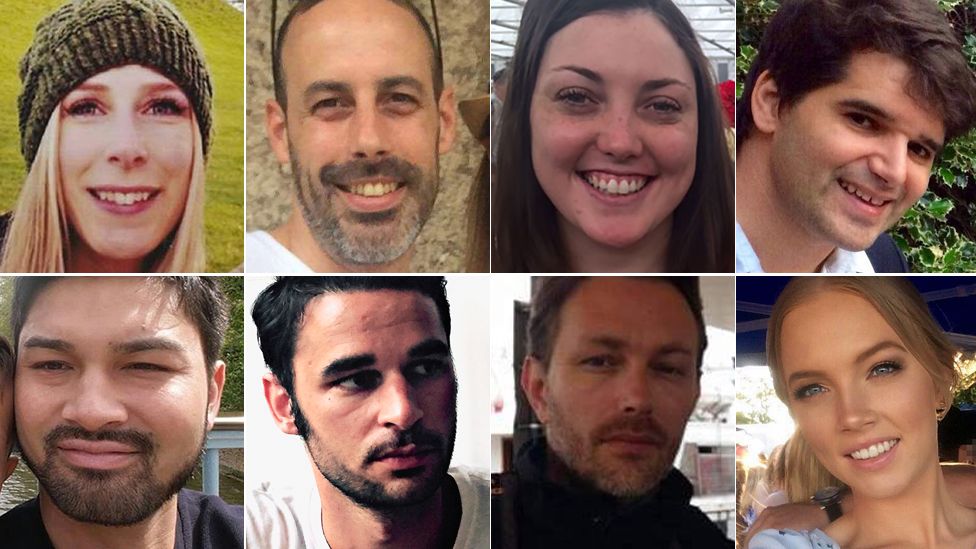 Eight people were killed during the London Bridge terror attack on 3 June 2017.
Three men drove into pedestrians on the bridge and then stabbed people in nearby Borough Market. Here are the victims' stories.
Canadian Chrissy Archibald died in the arms of her fiance after being struck by the attackers' van on London Bridge.
Tyler Ferguson had proposed to Ms Archibald, 30, four months earlier after she moved to be with him in the Netherlands.
The couple were busy learning Dutch, making wedding plans and talking about starting a family.
Ms Archibald was a social worker, who had worked in a shelter for people with drug and drink addictions.
Her family had worried she was too gentle for such difficult and heart-wrenching work, but she proved them all wrong. She had found her calling, said her father, Greg Archibald.
On the weekend of the attacks, Ms Archibald decided to join Mr Ferguson, who was in London on a work trip.
The couple went out for dinner on Saturday night to celebrate a successful day for Mr Ferguson, but as they crossed London Bridge, Ms Archibald was hit by the van. She died from multiple injuries.
At the inquest, Mr Archibald said: "The world has many sunshine people in it. Their smiles warm us. They make life bright and cheerful.
"But Chrissy was not the sunshine. Chrissy was the moon.
"You might not notice the moon on a sunny day, but you need the moon when life is dark and it's hard to find your way.
"That was our Chrissy: quiet and silvery but lighting a path for you to follow and reaching out a hand to help."
French-born Sebastien Belanger was watching the Champions League final with friends at a pub in Borough Market before he was killed in the attack.
The 36-year-old, who had been in the UK for seven years, was working as a chef at the French restaurant Coq d'Argent, in central London. Several years earlier, he had been promoted to head chef.
"I am so very proud of him," his mother, Josiane Belanger, told the inquest. "He worked very hard but also liked partying with his friends."
On the night of the attack, Mr Belanger, originally from Angers, western France, and his friends heard a van crash into railings nearby and went to investigate.
But under a dark archway, he was cornered and stabbed by the three attackers.
Two police officers tried to save him but he died from stab wounds to the chest.
"I do not forgive what they did to him," said his mother. "They mutilated and killed him."
In a tribute, his brother, Julien Belanger, said his family would never forget Sebastien.
"To see you again we simply need to close our eyes, to remember your kindness, your smile, your mischievous look, your generosity, your love for your family."
Kirsty Boden, an off-duty nurse, was having a meal out with two friends at Boro Bistro when she heard the sound of a crashing vehicle and ran to offer help.
The Australian-born 28-year-old was stabbed as she knelt over restaurant waiter Alexandre Pigeard as he lay dying. She ran through an alleyway but died there from a chest wound.
Her bravery earned her the name the "angel of London Bridge" and posthumous medals for bravery from the Queen and the Australian government.
Her partner, James Hodder, said her actions that night did not surprise anyone who knew her.
"She loved people and lived her life helping others. To Kirsty, her actions that night would have just been an extension of how she lived her life," he said.
Ms Boden, originally from Loxton in south Australia, had been working at Guy's Hospital and living in Hampstead in north London with Mr Hodder, whom she had first met in a flat-share.
"She completely floored me with her smile and kindness, and I very quickly fell in love with her," Mr Hodder told the inquest.
He said the two had enjoyed "geeky" first dates at the transport museum and a canal museum, before travelling together across much of Europe.
"Anyone who met Kirsty knew that she was different. Whether it was through her smile, the kind words she would always have, or the fact that she would always move heaven and earth to be there for you," said Mr Hodder.
"Kirsty just had the ability to leave a lasting impact on your life, and that's why there are so many people here and in Australia who miss her so much."
Ignacio Echeverria Miralles De Imperial
Ignacio Echeverria ran towards the attackers and tried to beat them with his skateboard when he saw one of them stabbing a woman. But they quickly turned their knives on him.
The 39-year-old Spaniard had been cycling with friends along Borough High Street after a day's skateboarding on the South Bank.
CCTV shows him get off his bike, run towards two police officers who were trying to stop the attackers and swing his skateboard at Rachid Redouane, who then knocked him to the ground.
He died from stab wounds to the back - and was the last person killed in the attack.
Mr Echeverria, a financial crime analyst at HSBC, had been living in London for a year-and-a-half, enjoying spending time with his sister and her young family and making skateboarding friends.
On the night he died, he postponed a visit to his sister's home as he was having such a good time skateboarding.
Mr Echeverria had been a hard-working, disciplined student who completed his law masters in French and Spanish, and also spoke English and German fluently.
As a Roman Catholic, he attended Mass every week and always defended his beliefs, his family told the inquest in a statement.
Through skateboarding, he befriended youngsters from different backgrounds, and saw an opportunity to influence and encourage them in their studies and work.
His bravery on the night posthumously earned him the George Medal, which the Queen presented to his parents last year.
The award committee said his actions had "undoubtedly prevented further loss of life" by giving others time to run away.
His father, Joaquin Echeverria Alonso, told the BBC his son said he would have intervened had he passed the Westminster Bridge attack that happened three months earlier.
"Later, during the attack at London Bridge, he demonstrated this through his actions," his father said.
James McMullan had nipped out of the Barrowboy and Banker pub for a cigarette after the football match had finished, when the attackers' van smashed into nearby railings.
Instead of running, he went to help up Australian au pair Sara Zelenak who appeared to have fallen over on the wet pavement in her high heels, the inquest heard.
Witnesses said Mr McMullan tried to pick her up but there was no time for either of them to get away.
The 32-year-old British-Filipino became one of the attackers' first victims. He died from a haemorrhage and stab wound to the chest.
That night, Mr McMullan had been out with friends celebrating getting financial backing for his own online education company.
The day before, he had called his mother, Mila, to excitedly tell her the last two years of sleepless nights were finally going to pay off.
He told her everything was going to be OK and he was going to be able to look after her, his sister, Melissa McMullan, told the inquest.
He was going to be able to help children who didn't have access to education, through his e-learning platform and make her proud, she said.
At the inquest, his father, Simon McMullan, told how James could talk the socks off anyone.
"James had more friends than most, and all of them will tell you that he was the life and soul of any gathering, that his lust for life was infectious."
He would also help others, no questions asked, said Mr McMullan.
"He would be there to see you through a personal crisis . He would give you the confidence to get that promotion. He would make sure you had a good night out. He would drive in the middle of the night to pick you up from 100 miles away."
Alexandre Pigeard, a waiter at Boro Bistro, went outside to investigate when he heard the attackers' van crash - but came face to face with the attackers.
They stabbed him once, and then all three set upon him again after he collapsed. He died from a haemorrhage and neck and chest stab wounds.
The 26-year-old French national, who was living in south-east London, had been in the UK for less than a year.
He had settled into his new life, becoming a cheerful, efficient colleague in the restaurant who took full advantage of London's nightlife.
A music lover, he was nicknamed "King of the Night" by his friends.
"He was a big brother, a confidant, an accomplice whose joy of living was contagious," his family said in a tribute set to music that was played at the inquest.
He had plans to leave London in the autumn to open a restaurant in Nantes, western France, and produce his first techno EP with his father, the inquest heard.
In the hours before the attack, Mr Pigeard, the eldest of six, spoke to his father on his break, chatting about music and upcoming festivals.
"He tells me to kiss the kids. I kiss him and wish him 'bon courage, mon grand'," said Philippe Pigeard.
He told the inquest: "It's now 703 days since the events took place.
"703 days where I'm a ghost wandering in the night that took away Alexandre, a handful of minutes of horror, of barbarism, cruelty where the assassins jumped on him."
Hand-in-hand, Xavier Thomas and his fiancee, Christine Delcros, were walking over London Bridge on their way to cocktails in the Shard, a skyscraper next to the bridge, when the attackers' van mounted the pavement and struck them both.
Mr Thomas was thrown over the bridge into the River Thames, and Ms Delcros was seriously injured.
For three days, a search team, including a helicopter, scoured the river for him. His body was eventually found almost two miles away, near Shadwell Basin. He had died from immersion.
Mr Thomas, 45, had lived in a town near Paris and was a business travel manager for American Express, where he had worked for 25 years.
He was a devoted father to his children, Noemie, 24, and Nicolas, 17, whom he had largely raised on his own.
At the inquest, Mr Thomas' parents, Philippe and Christiane Pesez, said his number one priority was to secure the best possible future for them.
"They were the apple of his eye. He looked after their education, their sports and other activities and ran the household, always in good spirits, without complaining about the problems he might have to face , and always managing to keep smiling."
Without him, the family felt lost, they said.
Both Noemie and Nicolas now have a tattoo to remember their father.
Ms Delcros, who had been with Mr Thomas for two years, told the inquest she was still "madly in love" with Mr Thomas and nothing could destroy that connection.
Sara Zelenak, the youngest of the victims, was given Saturday night off work at the last minute and found herself in Borough Market just as the attackers' van crashed into railings.
The 21-year old Australian au pair slipped in her heels on a wet pavement as she tried to get away, witnesses say.
James McMullan attempted to help her to her feet but the attackers were too quick. Ms Zelenak was stabbed in the neck.
Ms Zelenak grew up in Queensland, loving sport, rarely missing an afternoon nap and getting excited about the little things in life like spaghetti Bolognese.
After finishing school, she worked in a pub and tried floristry but realised she could make more money if she joined her father operating a crane truck.
Her mother, Julie Wallace, said she had soon saved up more than all her friends put together and decided to go on a "trip of a lifetime".
She made a plan to tour Europe and meet her parents in Paris. The first three months were spent in the UK, where she started working as a live-in au pair in south-west London.
Julie Wallace told the inquest her daughter, who called her daily, loved the family and children and had already bonded with fellow au pairs.
"Sarz was the happiest she had ever been: working, travelling, meeting new people, doing all the things 21-year-olds should do," said Mrs Wallace.
But on the night of the attack, "every sliding door slid for Sara to be in harm's way", she said.
She was unexpectedly given the night off; she and a friend had not found a rooftop bar they had been looking for and then they switched plans to go out in Borough Market instead of Soho.
Last year, her parents launched a charity - Sarz Sanctuary - in her memory to help others overcome the loss of a loved one in traumatic circumstances.