Women charged with terror offences and conspiracy to murder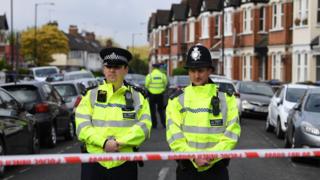 Three women, including one who was shot during a London police raid, have been charged with preparing a terrorist act.
Rizlaine Boular, 21, from central London, Mina Dich, 43, from south-west London, and Khawla Barghouthi, 20, from north-west London have also been charged with conspiracy to murder.
They were arrested following a counter-terror operation last month in which Ms Boular was shot by police.
They will appear at Westminster Magistrates' Court on Thursday.
Ms Dich, who is the mother of Ms Boular, was arrested in Kent and Ms Barghouthi was arrested in north-west London on 27 April.
Ms Boular was arrested three days later after being discharged from hospital.
All others arrested in connection with the investigation have been released from police custody, the Metropolitan Police said.