Four dresses and a drone - are weddings getting out of control?
By Claire Heald
BBC News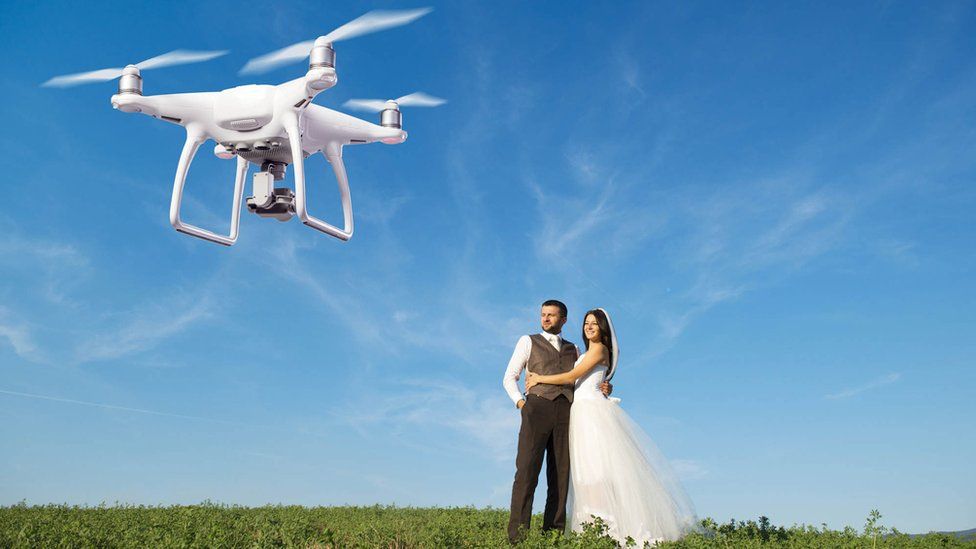 Three or four dress changes, a bevy of bridesmaids, photos taken by drone and its own #weddinghashtag.
The modern wedding has begun to take on the look of a vulgar "arms race", a lifestyle magazine has warned.
They also place guests under duress to pay for the hen-do; the stag weekend; the day itself; a present or honeymoon contribution; and a new outfit.
"The whole thing has got rather out of hand," editor Mark Hedges observes.
Website Bridebook looked at 20,000 UK weddings and found 4% of those held in the south-east of England cost more than £100,000.
There were also 111,169 divorces in the same year, and while the average UK annual income stands at around £27,195, the costs are substantial to most, and unrealistic for many.
Country Life's good calls for a perfect day:
A reliable (and sober) best man
Small canapes: you shouldn't have to struggle to eat them
Morning dress for men, hats for women
Subsidising the costs of a lavish hen-do/stag party
Always ask a father's permission
Not royal? Then more than six bridesmaids is "excessive"
Children at the reception
Strapless dresses (brides and guests)
Any guests you dated within the past three years
Dutch courage before a speech
Asking bridesmaids to pay for their own dresses
The magazine's Rosie Paterson believes there is a trend for "very elaborate showy weddings" that detract from the real purpose of the day.
She says: "I've seen a few friends go through the planning process, and not necessarily enjoying it. This is our gentle plea for restraints for weddings to come back to what they are really about - the wedding itself."
Weddings abroad from Mexico to Vietnam, stag dos in Europe or Las Vegas, wedding styling or themes poached from celebrity wedding culture or reality shows like Don't Tell the Bride. They all feed the fire, she says.
When weddings are then posted on Instagram or Pinterest, with their own hashtag, she adds, it may be an outlet for creativity, but: "You're suddenly looking at how everyone else is doing it. There's the ooh and aah of a giant party, but you are not, in fact, looking at the commitment. "
Mark Hedges adds: "Everyone sees what everyone else has done and feels they have to do better.
"They don't need to do better, they just need to get married and have a very special, sometimes simple, day. It should be fun, it should be delightful."
Then there's the "nightmare" of the three-day extravaganza, says Hedges, culminating in that "sorry, sorry day afterwards, when everyone's probably got slightly sore heads, wondering why they can't go home".
But is advice from a middle-to-upper-class lifestyle magazine on how to keep it real a bit rich?
People have always been competitive. Bridezilla is no new phenomenon.
Idealised images, in a vast range of wedding magazines, have been around for years.
For nuptials organiser George Watts, known as the Wedding Fairy it's all relative and based on what individuals want to achieve with, as he puts it, "their big day".
"Some people might want to host their wedding in a two-star Michelin restaurant, some might want the local country pub. At the end of the day, it's the couple's choice," he says.
He is currently planning a client's six-figure celebration, "£100,000 plus, it's a huge wedding". And he says there are more choices available than there were 20 years ago.
"I deal with so many couples, particularly brides, who have dreamt of their wedding day all their life. They've saved for it all their life, their family have. So why not put on a big day exactly how they want to?" he asks.
"Instead of just the standard cake, flowers and dress there's so many more elements that people can bring into their day to make it their own, make it memorable."
Perhaps, as the 2017 summer wedding season looms, it is all to plan for.
Take the last letter in today's Telegraph, from one Wendy May of Hereford, which ponders: "Sir - My son and his family are attending a wedding next weekend. The best man is a dog.
"Is this a common occurrence, or a new fad?"