London attack: What we know so far
Six people died, including the attacker, and at least 50 people were injured after a terror attack near the Houses of Parliament on 22 March. This is what we know about what happened that day.
What happened?
The attack lasted 82 seconds.
It began at 14:40 GMT when Khalid Masood drove a car - hired from a depot in Birmingham - over Westminster Bridge, near the Houses of Parliament.
One witness said he sped up, mounted the pavement, and began hitting pedestrians indiscriminately.
Police believe Masood was driving at up to 76mph.
---
82-second attack
14:40:08 - Masood's car mounts pavement on Westminster Bridge and hits pedestrians
14:40:38 - Masood crashes into perimeter fence of Palace of Westminster
14:40:59 - First 999 call made to Met police
14:41:30 - Masood leaves vehicle, runs towards Parliament, and is shot dead
---
The car then crashed into railings outside the Palace of Westminster.
Masood, armed with a knife, left his car and ran towards Parliament, where he was confronted by police.
PC Keith Palmer - who was wearing a protective vest but was not armed - was stabbed and killed. Masood was then shot dead by armed officers.
Reports that he was shot by a member of Defence Secretary Michael Fallon's close protection team - rather than one of Parliament's armed police - have not been confirmed.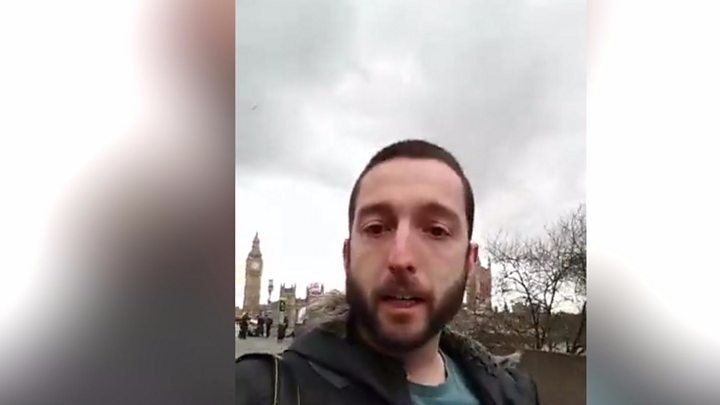 Along with PC Palmer, Aysha Frade, a British national, and US tourist Kurt Cochran, were killed in the attack.
A 75-year-old man, Leslie Rhodes from Clapham in south London, died from his injuries the next day and Romanian Andreea Cristea, who fell from Westminster Bridge into the River Thames, died more than two weeks later.
'We saw a policeman down on the floor'
Who was the attacker?
Khalid Masood, 52, was born in Kent on Christmas Day 1964. Before the March attack he was believed to have been living in the West Midlands.
He had a criminal past but his most recent conviction, for possessing a knife, was in December 2003. He had never been convicted of a terrorism offence.
Prime Minister Theresa May told MPs that while Masood had been "once investigated in relation to concerns about violent extremism" he was a "peripheral figure" and "not part of the current intelligence picture".
After his birth, Masood was registered in the Dartford district of Kent, but his name was given as Adrian Russell Elms.
Two years later, his mother married a man with the name Ajao and, as a child, Masood was known as Adrian Russell Ajao. He later used both Ajao and Elms until he converted to Islam and became Masood.
Masood spent a number of years working in Saudi Arabia teaching English as a second language at the General Authority of Civil Aviation in the port city of Jeddah, the BBC understands.
He gave his occupation as "teacher" when hiring the car he used to carry out the attack.
However, the Department for Education said it had no record of him having worked as a qualified teacher in English state schools.
Masood is believed to have had at least three children.
Who were the victims?
The police officer who died was PC Keith Palmer, 48, of the parliamentary and diplomatic protection command. He had 15 years' service, was married, and had a five-year-old daughter. He had served in the Royal Artillery before joining the police.
Aysha Frade, who worked in administration at DLD College London, was killed after being hit by the attacker's car before it reached Parliament.
She was 44 and a married mother of two young daughters.
The third victim was Kurt Cochran, 54, from Utah, who was in London to celebrate his 25th wedding anniversary. His wife Melissa was seriously injured but is said by her family to be "steadily improving".
Leslie Rhodes, 75, a retired window cleaner, had been receiving medical treatment in hospital following the attack. His life support was withdrawn on 23 March.
Romanian Andreea Cristea, who was on holiday with boyfriend Andrei Burnaz, died on 6 April as a result of her injuries. She had been in hospital since the attack.
Her family said in a statement: "After fighting for her life for over two weeks, our beloved and irreplaceable Andreea - wonderful daughter, sister, partner, dedicated friend and the most unique and life loving person you can imagine - was cruelly and brutally ripped away from our lives in the most heartless and spiritless way.
"She will always be remembered as our shining ray of light that will forever keep on shining in our hearts."
What we know about the victims
Who are the injured?
At least 50 people from at least 12 countries were injured in the attack, 31 of whom needed hospital treatment.
Among those injured were three police officers who had been walking across Westminster Bridge on their way back from a commendation ceremony.
One of the two officers recovering in hospital has been named as PC Kristofer Aves. He is one of two described as having "very significant" injuries.
Acting Deputy Commissioner Mark Rowley said the victims represented "a real cross-section of ages". As well as Britons, there were people from France, South Korea, Greece, Germany, Poland, the Irish Republic, China, Italy and the US.
Among others injured were four university students from Edge Hill University, in Ormskirk, Lancashire.
What do we know about the police investigation?
Seven men and five women aged between 21 and 58 were arrested in London, Birmingham and Manchester under the Terrorism Act - but all have now been released with no further action.
Acting Deputy Commissioner Mark Rowley said 2,700 items had been seized, including "massive amounts" of computer data.
Masood's phone is understood to have connected with WhatsApp two minutes before the attack, but the messaging app's encryption system means police may not know what if anything was communicated.
The Hyundai driven by Masood had been hired in Spring Hill, Birmingham, from a branch of Enterprise.
Police have been contacted by about 3,500 witnesses - 1,000 who were on Westminster Bridge and 2,500 who were within the Parliamentary estate at the time.
Hundreds of videos and pictures have been uploaded to the NPCC website, Mr Rowley added.
On 25 March, Deputy Assistant Commissioner Neil Basu said detectives believed Masood had acted alone and that there was no information or intelligence to suggest further attacks were planned.
"There is a possibility we will never understand why he did this," he added.
He said that while Masood "clearly had an interest in jihad", police had so far found no evidence of an association with the so-called Islamic State group or al-Qaeda.
What security has been put in place?
In London, the number of armed officers remains at "near double strength", Mr Rowley said, while across the UK there are "up to a third" more armed officers on duty.
He added: "Our current arrangements have been developed with Parliament over many years and are designed to provide access to the seat of our government, balanced carefully with security that is proportionate but not overly intrusive.
"Of course, after an incident like this, as would be expected, my team will work with parliamentary authorities to assess whether a different tone or balance is necessary."
The UK's terror threat level has been set at "severe" - meaning an attack is highly likely - for some time and this would not change, the prime minister said.
Commons Speaker John Bercow has announced that two reviews are to be held, examining security and Parliament's response to the incidents.
Security of Parliament under microscope
Get news from the BBC in your inbox, each weekday morning