Storm Doris: Woman killed as UK hit by winds reaching 94mph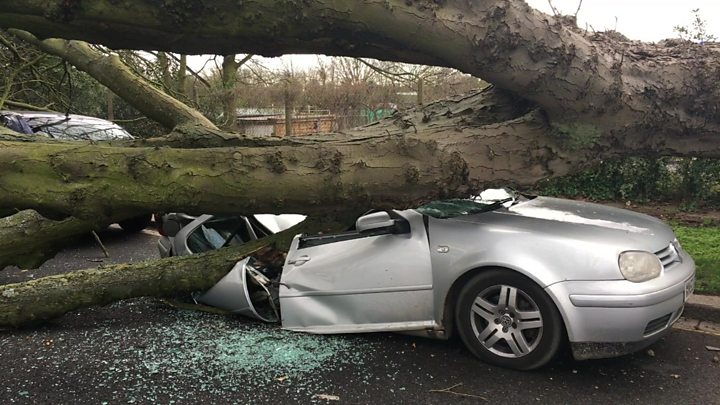 A woman has been killed and at least two people have been seriously injured as Storm Doris brought winds of up to 94mph, snow and rain to the UK.
West Midlands Ambulance Service said the woman had suffered head injuries when a piece of debris fell on to a street in Wolverhampton.
Strong winds have led to flight cancellations and road and rail disruption across much of the country.
Thousands of homes have been left without power.
About 1,500 homes and businesses are without electricity in Northern Ireland after trees fell on overhead lines. More than 21,500 customers had their power restored earlier.
Northern Powergrid says nearly 900 homes were left without power in Sheffield, but most now have their supply restored.
More than 400 homes are without electricity in Cheshire and at least 960 homes are without power across Lincolnshire.
A power cut which affected almost 2,000 properties in Huddersfield has been fixed, but about 5,000 people still have power problems in Essex.
UK Power Networks say 12,030 properties are without power in Suffolk and about 40,000 homes in total are without power across East Anglia.
Energy company SSE said about 700 customers had experienced power cuts in Scotland, mainly in rural Perthshire, Kinross, Dunblane and Milnathort, as a result of heavy snow damaging its overhead network.
And thousands of properties are also without power in Wales, where a 94mph gust of wind was recorded.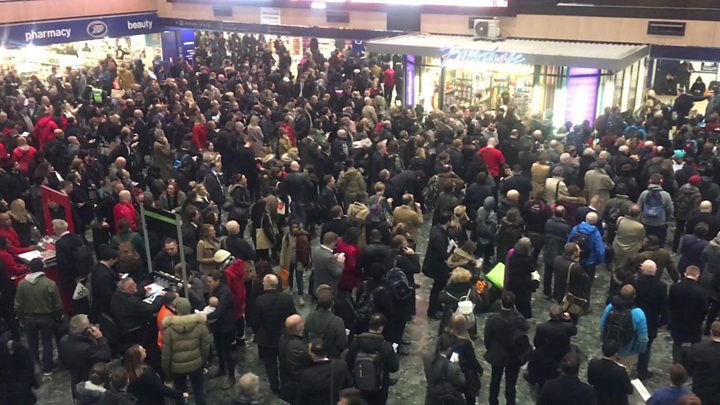 Storm Doris travel disruption
Highways England has re-opened the Dartford Crossing linking Kent and Essex, the Orwell Bridge on the A14 in Suffolk and the M48 Severn Bridge, which were all closed due to high winds
The M80 has been reopened after earlier closures in both directions due to snow, but motorists have been warned of continuing disruption
Heathrow has flagged at least 77 flights as cancelled on its website and says its schedule has been reduced by 10% because of the weather
Aer Lingus has cancelled 19 of its 111 flights between the UK and the Republic of Ireland
Gale-force winds have led to the cancellation of ferries and flights between the Isle of Man and the UK
Speed limits of 50mph have been imposed on several train lines affecting Arrival Trains Wales, Chiltern Railways, East Midlands Trains, Grand Central, Great Northern, South West, and Southeastern services
National Rail says services across the Virgin Trains network are affected, and is advising people to postpone their journeys. Trains across the whole Virgin Trains network are expected to run a "very reduced service" for the rest of Thursday
The Port of Liverpool has been closed owing to strong winds
In pictures: Storm Doris hits the UK
---
Ambulance crews have been called to several casualties with people being injured by falling trees and debris as well as being blown over.
West Midlands Ambulance Service said crew members had been called to an incident in Dudley Street, Wolverhampton, where they found a woman with "very serious head injuries" after she was hit by an object thought to be a piece of roof.
A spokesman said: "Sadly, it quickly became apparent that there was nothing that could be done to save her and she was confirmed dead at the scene."
A woman in her 60s has been left with a serious head injury after being hit by a carport roof in Stoke-on-Trent.
And a man is said to be in a "serious condition" in a central London hospital, after he was hit by debris falling from the roof of the new Underground entrance at Victoria station.
There are Met Office severe weather warnings of wind, snow and ice that combine to cover almost the entire UK.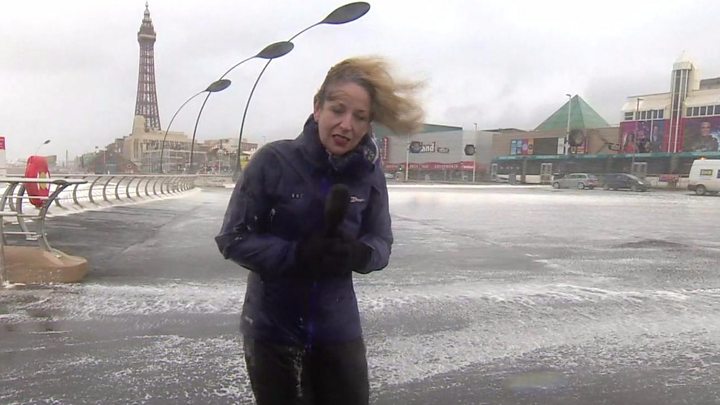 Heathrow has advised passengers to check their flight status before travelling to the airport.
A spokeswoman said: "With Heathrow operating at more than 99% capacity, there are no gaps in the schedule that can be used for delayed flights and as a result some passengers travelling may experience disruption to their journeys."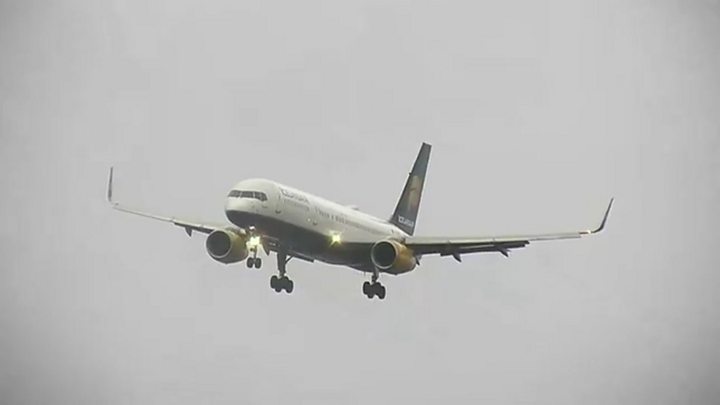 National Rail said fallen trees, objects caught in overhead wires, heavy rain, flooding and debris on tracks were causing delays to several services across the country.
Storm Doris also halted filming on the set of ITV soap Coronation Street, with a spokeswoman saying the weather had made outdoor filming "impossible" and it would have to be rescheduled.
And a tree-lined avenue in Northern Ireland which featured in Game Of Thrones has been damaged by the storm
One of the beech trees that make up the Dark Hedges in Co Antrim has fallen victim to high winds.
The severe gusts of winds are said to be caused by a "weather bomb" - a very intense area of low pressure which "explodes" when it travels underneath a powerful jet stream.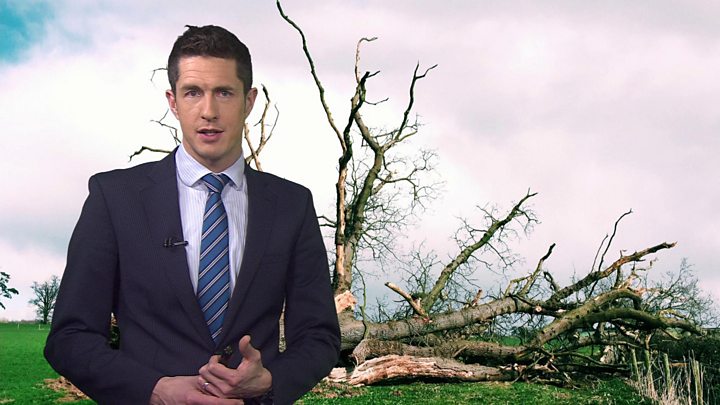 BBC forecaster Jacob Cope says the low pressure centre of the storm has now moved into the North Sea, dragging the strongest winds across eastern England, with gusts still reaching 70-80mph.
The main area at risk of strong winds over the next few hours is East Anglia, as winds turn northerly.
An area of rain and sleet is moving south through Northumberland and Cumbria, heading for the Midlands although this, along with the winds, will ease through the evening, leaving a cold and frosty night.
Forecasters say there is a risk of flooding in Northern Ireland, and possibly at lower levels in northern England and the south of Scotland.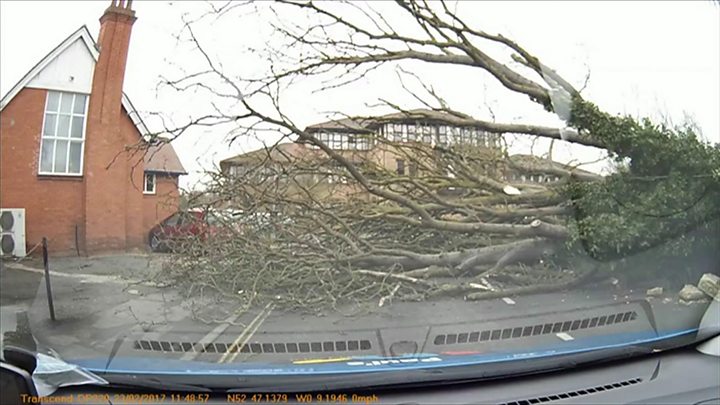 However, the Environment Agency said it had not issued any flood warnings for the UK.
More rain and wind is expected to continue through to the weekend and into next week but will not reach the same level as Storm Doris.
The Met Office has issued a yellow weather warning for ice affecting northern England, the Midlands, Northern Ireland and Scotland on Friday.