Britons injured in Norway boat accident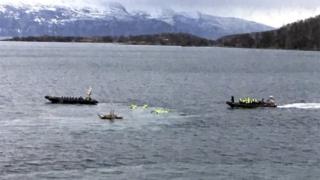 Several Britons remain in hospital after a boating accident on Thursday off the coast of Norway.
Police said 10 British tourists and a local driver were injured when a speedboat hit a water fountain near the town of Harstad.
A second boat following behind is thought to have been caught up in the incident. Norwegian Police said two people were seriously injured.
The Foreign Office said it was in contact with the Norwegian authorities.
According to AP news agency, the Britons and their driver were thrown into the sea and spent about 15 minutes in the 6C water.
'Thrown like dolls'
Police said at the time of the accident, the British group were on a tour with a local travel agent.
Nils Mehren, a local journalist who saw the accident from his office, said the boats were moving at high speed and that the impact threw people into the Norwegian Sea "like dolls", AP said.
According to police, a total of 24 people, including three crew, were on board the two rigid-inflatable boats when the collision happened at about 15:00 local time (14:00 GMT).
Tore Didriksen of the Harstad police force said: "We have now brought all the passengers to hospital for help and first aid. We will also talk to the pilots of the boats and the witnesses."
A spokesman for holiday company Inghams said the tourists had been on a boat excursion as part of their "Arctic Fjord" short break.
He added: "Following an incident this [Thursday] afternoon as they came into harbour at the end of the sea safari (the cause of which remains unconfirmed at this time), the passengers, the boat pilot and our tour leader were all taken to hospital in Harstad for check-ups.
"Sadly it appears that the boat pilot has more serious injuries, and has been transferred to Tromso hospital."
The spokesman said the six guests and tour leader were reported to have minor injuries.
Of these six, four guests and the tour leader were staying overnight in Harstad hospital on a precautionary basis, the spokesman added.
Gro Dagsvold, of local tourist organisation Visit Harstad, said the tourists had arrived from London on Wednesday.
Harstad is on the country's largest coastal island, Hinnoya, and about 875 miles north of the capital Oslo.
---