UK house raided in German Fateh al-Sham jihadists investigation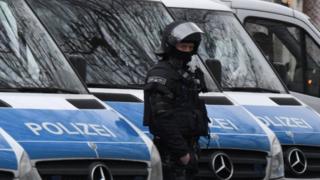 Police have raided a house in Leicester as part of a German investigation into two people suspected of providing supporting for a Syrian jihadist group.
The unidentified pair are accused of supporting Syria's Fateh al-Sham over several years, sending them medical and food supplies and collecting donations.
The property was searched on Wednesday morning in tandem with raids in western Germany.
Leicestershire Police did not say whether any arrests were made.
Federal prosecutors in Germany said the Leicester raid was meant to gain evidence against the two people.
It comes after German authorities carried out multiple raids on flats. businesses and mosques in raids on jihadist suspects on 1 Feb, arresting 16 people suspected of helping a foreign terrorist group or planning an attack.
Suicide bombings
They are accused of working for Jabhat Fateh al-Sham - or the Front for the Conquest of Syria - by organising aid convoys, sending ambulances, medical equipment and food.
The Syria-based jihadist group, which changed its name from al-Nusra Front last July, has claimed responsibility for a number of suicide bombings including attacks on civilian targets.