RAF Typhoon jets escort Pakistan plane to Stansted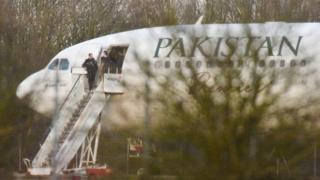 RAF fighter jets have been scrambled to divert a Pakistan International Airlines plane to Stansted Airport.
Stansted said the flight from Lahore to Heathrow had landed in Essex at 14:50 GMT after being escorted by Typhoons.
Essex Police said the diversion had been due to reports of a disruptive passenger and was "not believed to be a hijack situation or terror matter".
In an unrelated matter, a passenger due to be arrested by police on arrival at Heathrow was held at Stansted instead.
The Met said the 52-year-old had been arrested on suspicion of committing fraud offences in the UK and was being transferred to a London police station.
The Airbus A330 was held away from the airport after its diversion and Pakistan International Airlines said passengers were provided with "surface transport" to London.
Stansted remained open as usual throughout the incident.
An Essex police spokesman said: "An aircraft was diverted to Stansted Airport at around 3pm this afternoon while over UK airspace en route to Heathrow Airport due to reports of a disruptive passenger on board.
"The plane is currently at the airport and officers are making enquiries. There is no disruption to the ongoing operation of Stansted Airport."
However, Pakistan International Airlines said in a statement that UK authorities had received "some vague security threat through an anonymous phone call" regarding the flight.
Pakistan's Civil Aviation Authority tweeted: "#PIA flight bound for Heathrow from Lahore has been diverted to #Stansted due to reasons aboard the aircraft."
Arfah Khawaja, from Pakistan. who was on the plane, said there was no sign of any disturbance.
"It was a horrible experience. It really wasn't a big deal. The was no disruption during the flight," she said.
She said the passengers were on the plane at Stansted for six hours following an eight-hour flight.
She describe how eight heavily-armed police officers removed a man from the plane.
"They knew who they were targeting," she said. "They escorted him from the plane. He was very calm."
The RAF confirmed that Quick Reaction Alert Typhoon aircraft had been scrambled from RAF Coningsby, in Lincolnshire.
Stansted is a designated airport for dealing with hijacks and major security alerts.
Such incidents are dealt with in a remote part of the airfield to the north-west of the terminal building.