Blue Peter time capsule dug up 33 years early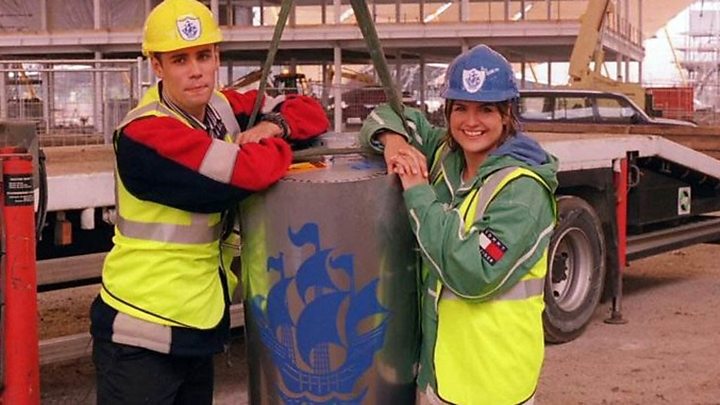 A Blue Peter time capsule has been accidentally dug up by construction workers 33 years earlier than planned.
The Millennium Time Capsule was buried under the Millennium Dome, now the O2 Arena, in 1998.
Filled with viewers' mementos of the time, it was not supposed to be unearthed until 2050.
The O2 has said despite being damaged, the capsule's contents are safe. The BBC said the capsule will be re-buried.
Former Blue Peter presenters Katy Hill and Richard Bacon buried the capsule in June 1998.
A spokesperson for the BBC said: "Although a little earlier than anticipated, we're looking forward to sharing these memories with our viewers and making new ones as we return the capsule to the earth so that it can be reopened in 2050 as originally planned."
In a competition, viewers had been asked to submit ideas for items they would like put inside.
The winning entries included roller blade wheels, an asthma inhaler, Tellytubby dolls, a France 1998 World Cup football, a picture of a dove to symbolise peace in Northern Ireland and a Roald Dahl book.
A spokesman for the O2 Arena said: "The team at The O2 and our contractors ISG have been searching for the Blue Peter time capsule since we started construction work in 2016.
"We found it yesterday but sadly it was accidently damaged during excavations. The capsule and its contents are safely stored in our office and we've let the team at Blue Peter know.
"We're going to work with them to either repair or replace the capsule and bury it again for the future."
The BBC said: "We are looking forward to sharing these memories with viewers and making new ones as we rebury the capsule until 2050."
Have you ever made a time capsule? What was in it? If you made a time capsule today, what would you put it in? Email haveyoursay@bbc.co.uk