Donald Trump state visit to UK: All you need to know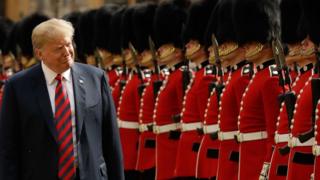 US President Donald Trump and First Lady Melania Trump are making a state visit to the UK from 3 to 5 June. Here's a rundown of what we can expect.
What is a state visit?
It's a formal trip to the UK by a head of state and is normally at the invitation of the Queen, who acts on advice from the government.
Although they're grand occasions, they're not just ceremonial affairs - they're also used by the government to further what it sees as Britain's national interests.
The Queen usually receives one or two heads of state per year and has hosted 112 of these visits since becoming monarch in 1952.
The official website of the Queen and the Royal Family has a full list of all the other state visits, and details of how the ceremonies unfold.
Visitors usually stay at either Buckingham Palace or Windsor Castle, but because Buckingham Palace is being renovated the US president is not expected to stay there.
While Mr Trump will only be the third US president to make a state visit to the UK, the Queen has met almost all the US presidents in office during that time, either in the UK or in the US.
---
What will happen on the visit?
The full schedule for Mr Trump's visit has not yet been released, but it is known that he'll hold bilateral talks with Mrs May at 10 Downing Street.
The president and his wife will also attend a ceremony in Portsmouth to commemorate the 75th Anniversary of D-Day.
Beyond this, there'll be the usual pomp and ceremony of a state visit, including a banquet hosted by the Queen at Buckingham Palace.
A visiting leader will sometimes speak at the Houses of Parliament, but there are doubts about whether Mr Trump will do so.
In 2017 Commons Speaker John Bercow - who can veto who speaks to Parliament - said Mr Trump should not be allowed to formally address MPs and peers.
At the time, he said that addressing Parliament was "not an automatic right, it is an earned honour".
The Speaker's Office now says any request to address Parliament will be "considered in the usual way".
---
Why is the visit controversial?
The Prime Minister says the visit is a chance for the UK and the US to strengthen their "already close relationship". Talks will cover areas such as trade, investment, security and defence.
But Mr Trump is a controversial figure and many have opposed the visit.
His policies - from the executive order that restricts entry to the US from certain countries, to the wall with Mexico, and his rejection of the Paris climate deal - have provoked criticism, both domestically and internationally.
And that is to say nothing about some of the comments he's made - including outspoken attacks against political opponents, the media, and his critics - and the investigation into his links to Russia.
Labour leader Jeremy Corbyn has refused to attend Mr Trump's state banquet, accusing the president of using "racist and misogynist rhetoric", while Liberal Democrat leader Sir Vince Cable has also declined an invitation to attend.
Others argue that the US is a key ally of the UK and that Mr Trump should be welcomed accordingly.
---
What happened during his working visit to the UK?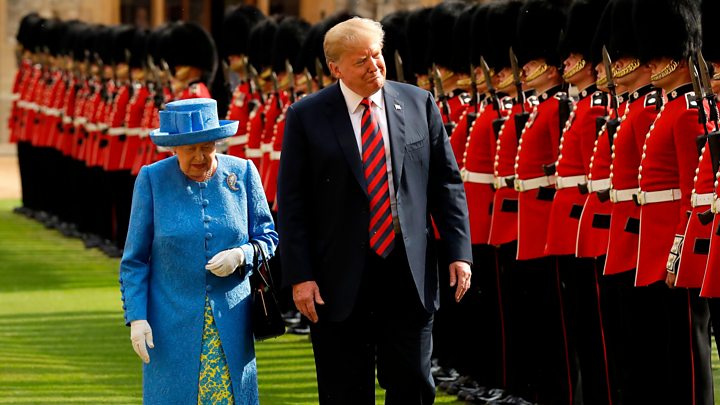 It was certainly eventful.
As well as holding talks with Mrs May at her country residence, Chequers, and having tea with the Queen at Windsor Castle, the trip was marked by demonstrations.
Tens of thousands of people gathered in central London to protest against him.
There was also a six-metre "Trump baby" blimp - depicting the president as a nappy-wearing infant - inflated outside Parliament.
And at his golf resort in Turnberry, one protester paraglided over the hotel as President Trump played the course.
---
Will there be more protests?
Campaigners have claimed they will mobilise "huge numbers" in response to Mr Trump's arrival.
Leo Murray, who helped organise the blimp demonstration, said although there is an element of "outrage fatigue", activists would still gather in large numbers if Trump speaks in Parliament.
Sabby Dhalu, from British campaign group Stand Up To Trump, described the US leader as "the world's number one racist, warmonger and misogynist" and said they were organising a protest.
Michael Delabroc, 26, is a pro Donald Trump campaigner, and says he expects thousands of people to attend a counter-protest to show "there are people here who are fond of the president".
He says there are plans to bring a giant float of Trump dressed as the Emperor from the Warhammer 40,000 series - if it isn't rejected.