Child among three bodies found after Reigate house fire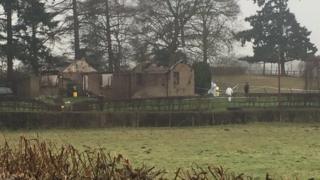 The bodies of a man, woman and a child have been found following a house fire.
They were discovered in a double bed among the ruins of an isolated farm cottage in Reigate, on Tuesday morning, Surrey Police said.
Officers were called to the property in Trumpets Hill Road following concerns for the safety of the occupants.
On arrival, at about 11:10 GMT, they found the building had suffered serious fire damage. It is believed the fire had burned all night.
An investigation into the cause of the blaze is under way.
Next of kin have been informed of the deaths.
The three people who died have not been formally identified, Surrey Police said.
Insp Richard Hamlin said: "Fire officers been working hard to ensure the scene and structure of the building is safe to enter, and we will continue working with them today to maintain the scene.
"We are still investigating with the fire service to determine a cause of the fire which remains unexplained at this time."
Resident Christine Beard said: "The houses are few and far between here, so we weren't aware of anything.
"The police have been round but I don't think they know how the fire started or what time it started.
"It's terrible news. We had seen comings and goings from there with horses, and had taken in the odd parcel for them, but that's it."
At the scene: Peter Stewart, BBC Surrey reporter
The cottage is in a remote spot at the end of a long drive.
It is perhaps not surprising that neighbours did not spot the fire when it broke out on Monday night. The closest other house is several hundred yards away set back from the road and behind tall trees and hedges.
More than half a dozen forensics experts were at the scene of the blaze. There was a controlled demolition to protect the investigators who were trying to establish the cause of the fatal fire.
A few neighbours have come to the scene. One woman openly sobbed at the sight of the cottage. A woman who regularly delivered catalogue purchases to the house told me how shocked she was when she came to make a delivery on Tuesday morning. Another neighbour brought two bouquets of flowers which he handed over to officers at the police cordon.
Police and fire investigators are still picking through the remains of the building. There is no roof, and you can see right through what was a family home from one window at the front through the remains of the building to the garden at the back.