William gives up pilot job to become full-time royal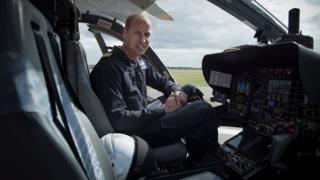 This will not have been an easy decision for Prince William to make.
For a second time, he's giving up a role he didn't inherit, but gained on merit.
After stints in the RAF and the air ambulance, his days as a pilot are coming to an end.
He will miss them. He's spoken of how he's loved working in a team. Something, he said, "his other job" didn't necessarily offer.
The prince is the only senior royal to have a deep understanding of the National Health Service the majority of the population experience.
With his family moving from Norfolk to London, Prince George will go to a private school from September.
And Prince William and his wife will be available to do more royal work. The demands will increase now the Queen has turned 90.
The future king's exclusive focus will very soon be on his role as a Windsor and a destiny he'll one day embrace.