British soldier dies in Iraq, says Ministry of Defence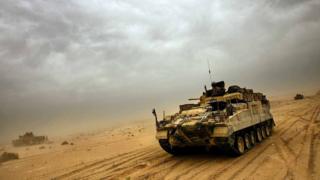 A British soldier has died in Iraq, the Ministry of Defence has said.
The soldier, who has not been named, served in the 2nd Battalion, Duke of Lancaster's Regiment.
The death in the rural district of Taji, north of Baghdad, was "not the result of enemy activity", the MoD said. An investigation is under way and the soldier's family have been told.
Taji, to the north of Baghdad, is home to Camp Taji, also known as Camp Cooke, which is a coalition forces base.
A spokesman from the MoD said: "The death occurred in Taji, Iraq, following an incident that is currently under investigation, but we can confirm that it was not as a result of enemy activity."
The British army is in Iraq as part of the UK's effort to combat so-called Islamic State militants.
About 150 soldiers from the battalion are being deployed to Iraq for six months.
They form part of a 500-strong army force being sent to train Iraqi and Kurdish security forces.
Soldiers from the 2nd Battalion are providing protection to other British troops who are training local security forces in infantry skills, weapons maintenance, medical, engineering and counter-IED (improvised explosive device) measures.