New 12-sided pound coin to enter circulation in March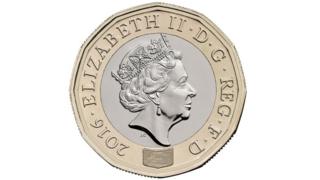 The new 12-sided £1 coin will enter circulation on 28 March, the government has said.
The round £1 will be legal tender alongside the new, more-secure coin until 15 October.
The public are being urged to use their current £1 coins or bank them before they lose their legal tender status.
The government estimates around a third of the £1.3 billion worth of coins stored in piggy banks or saving jars around the UK are the current £1 style.
Some of those returned by the public will be melted down and used to make the 12-sided version.
The new style was announced in the 2014 budget and has been billed by the Royal Mint as "the most secure coin in the world".
---
Why the new coin is harder to counterfeit
12-sided - its distinctive shape means it stands out by sight and by touch
Bimetallic - The outer ring is gold coloured (nickel-brass) and the inner ring is silver coloured (nickel-plated alloy)
Latent image - it has an image like a hologram that changes from a '£' symbol to the number '1' when the coin is seen from different angles
Micro-lettering - around the rim on the heads side of the coin tiny lettering reads: ONE POUND. On the tails side you can find the year the coin was produced
Milled edges - it has grooves on alternate sides
Hidden high security feature - an additional security feature is built into the coin to protect it from counterfeiting but details have not been revealed
---
Its introduction will come as a new set of coin designs are also brought into circulation, celebrating the achievements of Jane Austen and Sir Isaac Newton.
The Royal Mint said the new designs have a "strong pioneering theme" and will start appearing this spring.
A Jane Austen £2 coin will celebrate the author 200 years after her death, while another £2 version will remember the Royal Flying Corps.
A 50p coin will mark the achievements of mathematician Sir Isaac Newton, a one-time Master of the Royal Mint.
Dr Kevin Clancy, director of the Royal Mint Museum, said: "This is a particularly significant year in Royal Mint history as we welcome in the new 12-sided £1 coin, with its innovative security features.
"This year we also mark the achievements of Jane Austen, Sir Isaac Newton and the Royal Flying Corps - all pioneers in their own field."