Travellers face Christmas rail closures due to planned work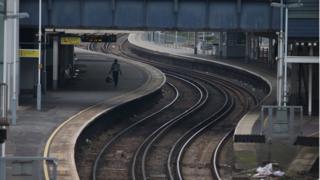 Rail passengers face disruption over the Christmas period, with 200 sets of engineering works affecting up to 10% of the railways.
Network Rail, which maintains the UK's railways, said carrying out works over the festive season would have the least effect on the travelling public.
London, Manchester and Cardiff are among the cities hit, and the Heathrow Express will be suspended for six days.
Meanwhile, the M1 from junction 12 to 13 has reopened after an earlier crash.
A spokeswoman for Bedfordshire police said two people suffered life-threatening injuries in a three-car crash on the motorway between Flitwick/Woburn junction and the Bedford turn-off.
Several people were also taken to hospital, while others were treated for less serious injuries, she added.
Both the northbound and southbound carriage were closed, but have since reopened.
Tunnel delays
Elsewhere, there have been delays on the M55 in Lancashire after a police car collided with a vehicle it was following, near junction one of the eastbound carriageway.
One carriageway has been completely closed, and one man has been arrested on suspicion of dangerous driving.
There are also delays through the Eurotunnel, following an incident in one of the tunnels. Eurotunnel said both tunnels were now clear, but there was a waiting time of about two-and-a-half hours for some passengers.
The AA motoring group said Friday - which had been expected to be the busiest days of the season as travellers drove home for Christmas - had been "fairly steady".
Meanwhile, Storm Barbara has hit parts of the UK for a second day.
Traffic and weather news on the BBC
Work on some rail schemes is beginning on Christmas Eve, giving engineers and maintenance teams four days to carry out upgrades before the next working day.
Along with the annual festive shutdown on Christmas Day, it will mean only certain services run on Boxing Day.
Trains to and from London Paddington will not run between Saturday and Thursday because of work to build Crossrail.
The Heathrow Express, between Heathrow Airport and Paddington, will also be suspended for six days, while Great Western Railway trains will terminate at Ealing Broadway.
Bus replacement services and diversions will be in place to and from London Liverpool Street until 2 January.
There will also be no Southeastern trains to London Bridge and Charing Cross, apart from Hastings services.
Southern Trains has warned passengers to expect a severely reduced and disrupted service between 31 December and 2 January due to a strike by RMT conductors.
Huge engineering project
Network Rail chief executive Mark Carne told BBC Breakfast the company was "making every effort that we can to run the services in the best way that we can".
"The reality is this is the best time of the year for us to do this sort of huge engineering project because the numbers of people travelling by train is about half of what it is on a normal weekend or a normal day.
"This is the time of year when we can do this sort of work with the minimum effect on the travelling public."
'No choice'
Analysis: BBC transport correspondent Richard Westcott
They're damned if they do and they're damned if they don't.
Britain's Victorian railway network needs upgrading, but it's very hard to work on something that's in almost constant use, bar a few hours in the middle of the night.
So Network Rail says it has no choice but to get the really disruptive jobs done during the holidays, when the trains are half as busy as normal.
The real problems start when engineering works over-run. Like two years ago, when a catalogue of errors meant two big stations did not reopen on time, leaving tens of thousands of passengers furious and stranded on the edge of London.
Network Rail says it has learnt from that mistake and has a comprehensive back-up plan.
Weather
Christmas Eve will see mild air sweep through the UK overnight and Christmas morning is expected to be very mild - reaching up to 15C (59F) .
This is expected to give way to a spell of windy weather, with the strongest winds across the north of England and in southern Scotland.
Temperatures in the north are expected to turn colder later on Christmas Day and into Boxing Day morning, with the chance of blustery showers turning into snow, the Met Office said.
Another storm - Storm Conor - is due to hit the north of the UK on Boxing Day.
On Friday, 70mph winds were recorded in northern England, and there were gusts of 75mph in Wales as Storm Barbara swept across parts of the country.
In Scotland, high winds resulted in power cuts, school closures and poor travelling conditions. A wind gust of 91.5mph was recorded at Scalpay Bridge in the Western Isles.
In Northern Ireland, nearly 1,000 homes were without power on Friday evening.
Roads
Some 448 miles of roadworks on England's motorways and major roads have been suspended or completed in a bid to reduce disruption.
Highways England said this would leave 98% of its network free of roadworks until 3 January.
John Snowling, from the AA, said with Christmas falling on a weekend, many people started their break on Friday, but almost a third of members would be making their journey on Saturday and more than a fifth will be travelling on Christmas Day to visit friends and family.
Rail
As well as the closures in and out of London's Paddington and Liverpool Street stations, there will also be no trains late on Christmas Eve between Cardiff Central, Bridgend, Newport and the Valleys, due to major re-signalling work.
Major improvement works will take place between Manchester Piccadilly and Eccles/Salford Crescent/Trafford Park until 2 January.
Bus replacement services will also run between Maidenhead and Marlow.
Meanwhile, soldiers are on standby to drive rail replacement buses in parts of the South East severely hit by Southern rail strikes, the BBC has learned.
Airports
Friday was due to be the busiest day of the Christmas getaway for airports, according to travel firms' association Abta.
More than 118,000 passengers were expected to depart from Heathrow, the airport said.
Planned strikes by British Airways cabin crew on Christmas Day and Boxing Day have been suspended.
---
Are you travelling to your Christmas destination today? Share your experiences by emailing haveyoursay@bbc.co.uk.
Please include a contact number if you are willing to speak to a BBC journalist. You can also contact us in the following ways: