Joy clothing apologise for 'sexist' email advert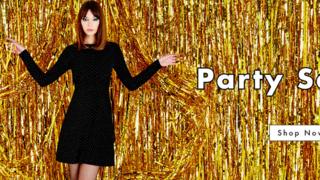 Clothing retailer Joy has been criticised by customers for sending out a "sexist" email advert.
The advert read: "Show your boyfriend's mum you're the girl to take care of her little prince in beautiful dresses that scream marriage material".
Subscribers took to Facebook to tell the chain they found the email "awful" and "insulting".
The company apologised saying it had meant to be "satirical" but it had made an "error in judgement".
The chain store said the email entitled "Meet the Parents" was based on customer's insecurities over meeting a partner's parents for the first time.
Featuring a picture of a black and blue bird print dress, it read: "Knee length skirts exude class while respectable necklines mean father-in-law won't have a heart attack when you lean across the table for a second helping of roast potatoes."
But customers writing on Joy's Facebook page described how they were not impressed with the campaign.
Leslie Gold wrote: "Your 'Meet the Parents' marketing email is incredibly offensive, outdated and ill-conceived. What were you thinking? You've lost me as a customer."
Ceri Smith wrote: "Since when did you think this kind of crass everyday sexism was a legit way to market yourselves to women? This isn't the 1950s and women wear your clothing to look smart at work, not bag a man and get married. Grow up."
'Miscalculated'
Joy issued a statement on its website apologising for the advert, which it said it had wanted to "set to a satirical backdrop," but admitted the act had "back-fired".
The statement said: "We acknowledge this error in judgement, and, as such, we would like to apologise to anyone who felt offended.
"We're also aware there are many truly amazing parents who make you realise none of these things even matter (which they don't, and shouldn't, especially not in the 21st century, and especially not when our focus should be how many rounds of food we can fit in before it runs out).
"Also, as a quick aside: we don't actually believe having the right dress/shirt/glass slipper will make someone want to marry you."
---
You might also like: