Poultry ban at bird shows and auctions after turkey bird flu outbreak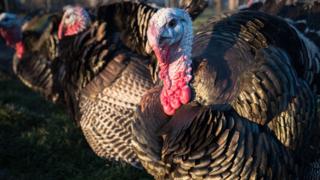 A temporary ban on poultry at bird shows, auctions and fairs has been put in place across England, Scotland and Wales after an outbreak of bird flu.
All 2,500 turkeys at a farm in Lincolnshire were destroyed after they were diagnosed with the H5N8 strain.
The ban applies to chickens, turkeys, ducks and geese, the Department for Environment, Food and Rural Affairs (Defra) said.
Restrictions remain in place around Austen Fen Farm, near Louth.
Defra said no further cases of the "highly pathogenic avian flu" had been reported and the farm had since been "disinfected".
But a 1.8-mile (3km) protection zone and a six-mile (10km) surveillance area was still in place "to limit the risk of the disease spreading".
The government said the ban did not apply to pigeons or aviary birds as they posed a "much lower risk of passing the disease to domestic poultry".
Chief veterinary officer Nigel Gibbens said: "This ban on gatherings is a proportionate step that will help protect our farmers and bird keepers from seeing their flocks infected with this disease that can have a devastating impact on poultry."
Defra said: "It will be kept under review and may be lifted or amended if the risk level changes."
Public Health England (PHE) said the risk to humans was "very low".
Defra said it was unlikely the outbreak would cause "any impact on the supplies of turkeys or other birds over Christmas".
Earlier this month, the government told owners to keep birds indoors for 30 days to protect them from the highly-infectious strain of avian flu.
The H5N8 bird flu strain has been found in poultry and wild birds in 14 European countries including Germany and France.