Fog at London airports causes second day of disruption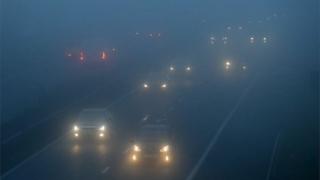 Fog is causing a second day of delays and cancellations at London airports.
Heathrow and Gatwick are both experiencing problems due to heavy fog across England and elsewhere in Europe.
London City airport opened on Sunday afternoon with a full schedule but, as with the other airports, advised passengers to contact their airline before leaving home.
Further fog is predicted for Monday which could affect commuters, according to the Met Office.
Travellers also face further disruption over Christmas due to planned strikes by cabin crew and baggage handlers, although talks to avert the walkout are planned for Monday.
A Heathrow airport spokesman said about 30 flights, selected by the airlines, had been "tactically cancelled" because of reduced runway capacity, and delays to other flights were likely to continue all day.
British Airways also warned there would be delays to some of its flights at other airports due to disruption at Heathrow.
A Gatwick airport spokesman said 23 flights had been cancelled there on Sunday due to "knock-on" problems caused by Saturday's fog.
The Met Office has a yellow severe weather warning for fog in place until 10:00 GMT on Monday, saying reduced visibility would continue in southern England and south Wales and creep into the Midlands.
Greg Dewhurst, a Met Office meteorologist, said driving conditions could be "tricky" for Monday morning commuters.
"The fog will be in and out - you could be fine driving along and the next minute come across this thick fog," he said.
"It is worth drivers being aware first thing in the morning, some dense patches are definitely possible".
The fog is likely to be thickest to the west of London - potentially making driving hazardous in places.
---
Flight delays: Your rights
You can claim compensation on flights covered by EU law - this includes any flight departing from the EU, or flights arriving at an EU airport and operated by an EU airline
But if the delay was caused by an "extraordinary circumstance" you will not be entitled to compensation
Events likely to fall into the category include acts of terrorism, security risks and weather conditions.
You can claim only if the delay was severe - more than three hours - and could have been avoided by the airline
If your flight is delayed for two or more hours you have the legal right to food, drink, access to phone calls and emails, and accommodation if it is overnight
Source: Civil Aviation Authority
---
On Friday, BA cabin crew based at Heathrow said they would strike on Christmas Day and Boxing Day in a row over pay and conditions.
The disruption to flights also comes days before a planned 48-hour strike at UK airports called by the Unite union over pay and conditions.
More than 1,500 check-in staff, baggage handlers and cargo crew employed by Swissport will walk out on 23 December.
Christmas 2016 travel: When should I avoid the roads?
Are we facing a Christmas of Discontent?
It is unclear how many airports will be affected, but airlines at Edinburgh, Aberdeen, Glasgow, Leeds/Bradford, Liverpool, Newcastle, Heathrow, Stansted and Manchester airports all employ Swissport staff.
Swissport said it had made numerous offers to Unite since April 2015 to resolve the dispute. It said the planned strike was "another in a series of recent examples where a minority of trade union members are acting in a cynical fashion".
The company said it would do "everything within its power to limit any impact of the proposed industrial action on the airlines it serves and their passengers".
Virgin Atlantic pilots have also voted to work to rule from 23 December in a row over union recognition.