Hungerford Tesco crash: Tribute to 'beloved' grandmother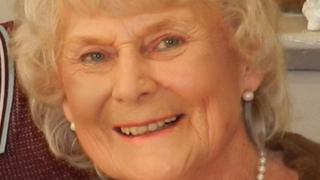 The family of an 86-year-old woman who died following a crash in a Tesco car park have paid tribute to their "beloved wife, mother and grandmother".
Colombine Charnock was a passenger in a Skoda when it collided with four other vehicles and hit the supermarket building in Hungerford on Thursday 8 December.
She died in hospital the next day.
The family of Mrs Charnock, from Buttermere in Wiltshire, said she would be "missed by her many friends".
In a statement, they said Mrs Charnock was known to friends and family as Chris and had previously lived in London where she had been a hospital volunteer.
The family added that they were grateful for the "efficiency, kindness and help of the emergency services" on the night of the incident.
Thames Valley Police said a man in his 80s was driving the car at the time of the collision and that he sustained minor injuries.
No arrests have been made.