All new police officers in England and Wales to have degrees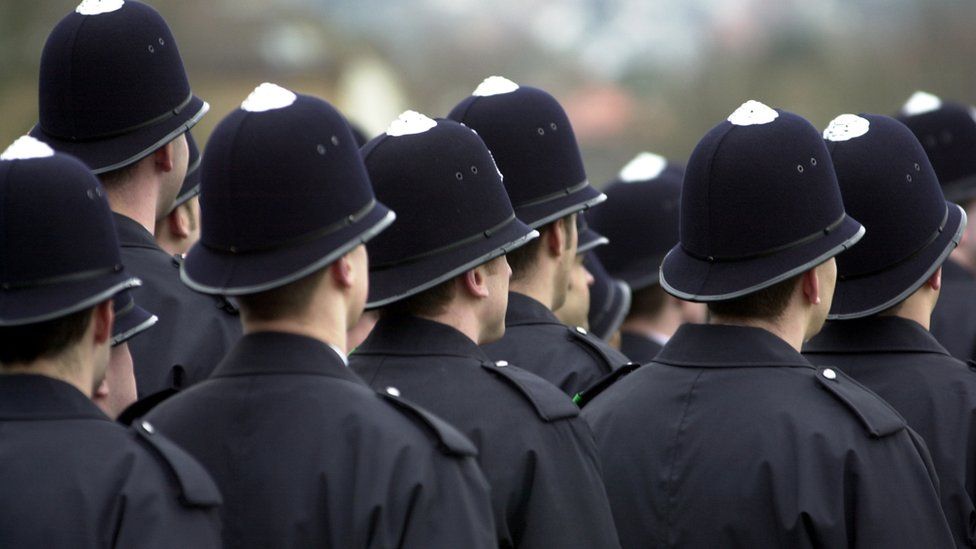 All new police officers in England and Wales will have to be educated to degree level from 2020, the College of Policing has announced.
It said the training would help address changes in crime-fighting.
Prospective officers can either complete a three-year "degree apprenticeship", a postgraduate conversion course or a degree.
The National Police Chiefs' Council said the changes would "help modernise the service".
The college's Chief Constable Alex Marshall said the feeling was the nature of police work has changed significantly and officers were just as likely to be "patrolling online" as on the street.
"Cyber-enabled crime has increased," he said, "So has the need for officers and staff to investigate and gather intelligence online and via information technology."
He also said protecting vulnerable people has become a "high priority", with officers now spending more of their time working to prevent domestic abuse, monitor high-risk sex offenders and protect at-risk children.
Even investigating a pub fight - which used to mean interviewing the victim, perpetrator and the bar staff - now also extends to researching videos, pictures and comments published online.
But retired police officer Norman Brennan, who served 31 years in London and now campaigns for police protection, said degrees came "at the bottom of the priority list" for police.
He said: "The only degree a police officer needs is a degree of common sense - they'll learn on the job.
"The public don't care about police having degrees. They want someone competent, caring and capable."
Policing degree: the changes
The College of Policing, which is responsible for setting standards of ethics and training for the police service, is in talks with 12 universities about running the degree courses.
The syllabus is likely to cover the law, safeguarding the vulnerable, understanding how an officer behaves on the street and how to build trust by interacting well with communities.
There will be three options at entry level:
A three-year police constable degree apprenticeship paid for by the force, allowing individuals to "earn while they learn" - spending 80% of their time on the frontline, and the rest completing their degree while receiving a salary
A practical policing degree, as seen in other professions, where the student would complete a three-year self-funded course and apply for a job once qualified
For graduates, a six-month postgraduate conversion course funded by the police
Other changes to be introduced include:
A national set of qualifications for officers following promotion, for example in skills such as management and leadership
A requirement for officers applying to be assistant chief constable or above to have a master's degree - to be paid for by their police force
The college plans to publish a directory of education qualifications for officers and staff next summer, with guidance as to how their on-the-job experience counts and what funding might be available to support them.
There are currently no standard recruitment requirements for officers across the 43 forces in England and Wales.
Some forces accept officers with Level 2 qualifications (A-C grade GCSEs), while others insist on Level 5 (diplomas or foundation degrees).
But Emma Williams, deputy director at the Canterbury Centre for Policing Research, said it was about formalising the training police already receive: "This is not about saying police are not already professionals. There's the assumption that police officers aren't academic but I'm not sure that's true."
Currently, 38% of those going into policing already have a degree or post-graduate qualification (Level 6).
Ms Williams, who is working with the College of Policing on the new qualifications, said the police would continue to provide practical training, while academics might focus on evidence-based policing and criminology.
The money for the apprenticeships, due to be introduced next year, is expected to come from a new 0.5% apprenticeship levy on all employers with a wage bill of more than £3m.
The announcement follows a two-month public consultation which received more than 3,000 responses, almost 80% of which were from police officers.
The majority were keen to gain accreditation for their existing skills, Mr Marshall said.
Police officers of all ranks account for 124,066 of the 200,922 people employed by police forces in England and Wales, official statistics show. Some 4,735 officers joined the forces last year, accounting for 4% of all officers.
The new qualification rules will not impact on current officers, unless they apply for a promotion to assistant chief constable or above.
Andy Fittes, general secretary of the Police Federation of England and Wales, welcomed the move to accredit qualifications to serving officers, and supported the idea of a framework that might standardise courses.
However he questioned the implementation of the training, given the "immense demands" being placed on the service.
Chief Constable Giles York, the National Police Chiefs Council lead for workforce, said the scheme would "improve our ability to attract and retain really good people"
He added that it was "fair and right" that officers receive the recognition and accreditation they deserve as professionals.
Related Internet Links
The BBC is not responsible for the content of external sites.