Terrorism officers arrest man at Heathrow Airport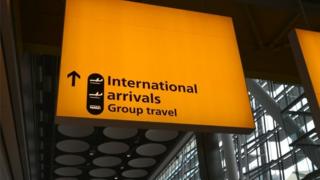 A 22-year-old man has been arrested by counter-terrorism officers at Heathrow Airport on suspicion of preparing for terrorist acts.
The suspect was held on his return to the UK from an undisclosed location at 16:00 GMT on Friday.
The South East Counter Terrorism Unit said his arrest related to conflicts overseas.
Police said there was no "imminent threat" to airport passengers or the community at the time he was detained.
The man was held on suspicion of preparation of terrorist acts contrary to Section 5 of the Terrorism Act 2006 and he was bailed until 27 February.
Meanwhile, a 23-year-old man has been arrested on suspicion of encouraging terrorism and dissemination of terrorist publications.
The man was detained in east London at about 06:25 on Tuesday by the Metropolitan Police's Counter Terrorism Command.
Police said he was being held in custody at a south London police station and enquiries are continuing.