Stories of child abuse: 'Not the only one'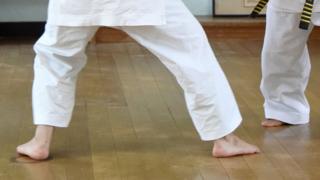 Dozens of people have contacted the BBC about abuse they suffered as children after four ex-footballers spoke out on the Victoria Derbyshire Programme.
The emails detailed abuse - often by trusted authority figures - not only in football, but in other sports including tennis, diving and golf.
The NSPCC said it had received a "small number" of calls relating to abuse in other sports and the National Police Chiefs' Council says it has received "very few".
Both say the vast majority of calls they have received since the football abuse story was first reported relate to football.
Note: Names have been changed to protect the individuals involved. Some of their testimony contains graphic descriptions.
'It turned me from an innocent boy into a bit of wreck'
Richard says he found it very difficult to report the abuse he suffered in the early 1990s when he was 14, by a man who was a personal trainer and karate teacher.
"It was a very gradual process.
"Nothing happened the first time, or the second time I saw him. In fact, nothing happened for about six months.
"It started with suggestion. He would say, 'Ever wondered if your bits are normal? Shall I have a look?'
"Then it moved into touching.
"I was lucky, in a way. I got out of it before it got any worse than touching. I now know there were other children who were abused more badly."
---
---
Richard says he knew it was wrong, and he knew he didn't want to be touched - but he trusted his trainer.
"I just thought he was curious. He got me to believe this, he normalised the behaviour.
"One time he asked if I could put my penis in his mouth. Then I knew it was time to get out."
In 2002, Richard was on a bus when he saw his former trainer on the front of the local paper, after being charged with abuse.
"I just broke down in a flood of tears," Richard says.
"I told my girlfriend about what had happened - she was the first person who I'd ever told.
"I was an absolute wreck. I'd tried to convince myself I was the only one who'd been abused, for all of those years."
After that, Richard says he reported his abuse to the police.
"I kept thinking I was stupid for letting those things happen.
"I can't say it ruined my life - I'm married with two children. But I can't leave my two boys with another guy. I'm very distrustful of the world. I don't trust anyone.
"It turned me from an innocent boy into a bit of a wreck."
The English Karate Federation told the BBC that allegations of abuse could be raised with their child protection officer, "where all matters will be dealt with appropriately and confidentially".
'He would take me on his lap and put his hands everywhere'
Libby told us she suffered abuse at a tennis club in the 1970s.
Her parents were members of the club, and in one summer they signed her up for regular lessons. She was seven.
"I don't remember the lessons," Libby says. "I remember him. I remember him being in the entrance of his office.
"He would call me in, and I remember hiding so he wouldn't see me.
"He would take me on his lap and put his hands everywhere. He would kiss me. He'd get me to touch him. I didn't know what was going on."
Libby says she didn't truly realise what had happened until she was 13 and was having a conversation with other pupils about kissing.
She says she remembers telling her parents that she did not want to go back to the club, telling them that she didn't like him. But they did not understand what was going on, and just told her not to be "stupid".
---
Where to go for help
NSPCC football abuse hotline: - 0800 0232642 (24 hours)
General lines for children and parents:
Childline - 0800 1111 - for children to access advice or talk to a counsellor
Stop it Now! - 0808 1000 900 - for parents to asks questions or raise concerns
---
In 2001, Libby wrote to the club about what had happened and ended up speaking to the person in charge, but says he refused to believe her story.
Last year, watching a programme about sex abuse prompted her to start doing some online research.
She discovered that other people had spoken about abuse by the same person and was able to get in touch with one of them via Facebook.
She later reported her abuse to the Metropolitan Police but that did not lead to a conviction, she says.
The Lawn Tennis Association (LTA) told the BBC that everyone involved in tennis "has a shared responsibility" to promote the welfare of children and young people at risk.
It has a Safe and Inclusive Tennis team to "respond to all cases" and work with external agencies, including the police and the NSPCC.
'At night he would pretend to sleep, then he would reach over and touch you'
Peter emailed us about abuse he suffered at the hands of a football coach at a club in Northern Ireland in the 1980s, when he was 14.
"Nobody at the time knew what grooming was. But looking back, that's what was happening," Peter says.
"There was eight months of grooming, testing and pushing."
The coach would give massages to the children, Peter says. There would then be inappropriate touching that his abuser would claim were accidental, and "groin massages".
He would also take the children on overnight trips.
Peter remembers that in the hotel room, the children would play cards - and the loser would have to share the double bed with their coach.
"At night he would pretend to sleep, then he would reach over and touch you in inappropriate places. I would wriggle to the end of the bed to get away."
---
Football abuse claims: What has happened so far?
How did the news emerge? In November, former Crewe, Bury and Sheffield United player Andy Woodward, waived his right to anonymity saying he was sexually abused as a youth player. Since then, several other footballers have told their stories publicly
How many clubs are involved? The latest figures claim 98 amateur and professional clubs are "impacted" upon
What is the FA doing? The association has begun an internal review to determine what officials and clubs knew about potential abuse and when
Are police investigating? Twenty-one police forces, including the Metropolitan Police, have opened investigations into the claims
---
The coach specifically used the fact that Peter was short, saying he knew how to help him grow taller. He told Peter he could help by rubbing a certain "gland".
On one occasion he took Peter on a trip to see Liverpool play. It was just the two of them, but it was with the full blessing of Peter's parents.
They were staying in a hotel room with twin beds.
"He turned the lights out, and I didn't know what was going to happen next," Peter recalls.
"Then he told me to take my briefs off, so I was naked. He climbed on top of me...he was saying, 'This is where the gland is.'"
Peter says he "squirmed" and somehow his reaction was enough to make the abuser stop.
After that the abuse tailed off. Peter changed clubs a couple of months later.
In 1997 Peter says he reported the abuse to the police, but after interviewing his alleged abuser they took it no further, saying it was just his word against the coach's.
He said when the footballers recently came forward to detail their abuse, it helped him deal with his own experience.
"It made me feel that I was less stupid for falling into the abuse. I wasn't the only one."
The Irish Football Association said all Irish FA staff and volunteers were vetted, adding that details of alleged abuse would be recorded and passed on to the police and social services.
Kevin Doyle, the Irish FA's safeguarding service delivery manager, said their safeguarding policies "recognise the duty of care everyone involved in football has to protect children".
---
Have you been affected by the issues raised in this story? You can email haveyoursay@bbc.co.uk with your experiences.
Please include a contact number if you are willing to speak to a BBC journalist. You can also contact us in the following ways:
Whatsapp: +44 7525 900971
Tweet: @BBC_HaveYourSay
Send an SMS or MMS to 61124 or +44 7624 800 100