Tax credits: 'Picked on so that benefits targets were met'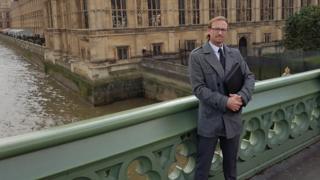 The use of a contractor to cut fraud in the tax credit system has been condemned by MPs after tens of thousands of people had their benefits wrongly withdrawn. One of those was single parent Paul Eite.
As a single parent of two young boys, tax credits of more than £100 a week were vital to the household budget of Paul Eite.
But in August this year Paul was left desperate when the payments were stopped for seven weeks by HM Revenue and Customs' contractor Concentrix.
Paul says this was because Concentrix thought he was still living with his former partner - letters with her name on were being sent to his address because she paid the eldest son's mobile phone bill.
This was despite him sending information to Concentrix, including a solicitor's letter and a tenancy agreement, showing he was a single parent.
After £50 worth of phone calls lasting 11 hours, Paul's tax credits were reinstated on appeal.
'Beans and toast'
He believes the situation was down to Concentrix's use of "strike rates", making the system stacked against claimants, as highlighted by the Work and Pensions Committee.
"They were being too harsh on people to hit unrealistic targets," he says. "They were picking on anybody just to hit targets."
During those seven weeks, says Paul, stress levels "went through the roof".
"It really does affect you. You're constantly saying 'when's the next money coming in'. It was shocking," he recalls.
"You're panicking about your financial situation. You scrimp and save - you learn how to make a really good meal with beans and toast.
"You don't sleep because you're constantly worrying about money. Seven weeks is a long time to be in that situation and you get used to penny-pinching."
A Facebook group was set up, Concentrix Mums, which had 11,500 members.
Paul, whose sons are aged 11 and seven, was one of four people affected who appeared before the committee in October.
'We've won'
The MPs' report criticised Concentrix and HMRC for their "gross failure of customer service" and building a decision-making process "stacked against claimants".
They found that 90% of those decisions were overturned on initial appeal yet in many cases people lost benefits for months and were forced to borrow money and use food banks to survive.
Paul is delighted with the MPs' findings: "The report is scathing. I think HMRC have a lot to do to make sure this doesn't happen again.
"We've won. HMRC have said they will never outsource again and that's what's happened. It's fantastic news for us."
Paul, 39, of Hayling Island, Hampshire, reflects on what happened with a mixture of anger and frustration.
"There are more important things than saving money," he says. "The government needs to save money on the benefits bill but they were trying to save money by picking on people who were never cheating the system."