Facebook users want to 'check-in' from beyond the grave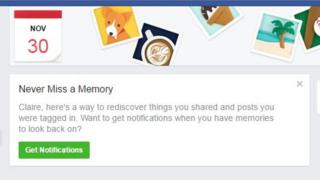 The idea of last words is not one for the UK's Facebook users as more than half would like their pages maintained after death, a survey has suggested.
It found 52% of people would like their Facebook pages to be updated, with a third nominating someone to have access to their account after they die.
Solicitors say people are increasingly using their will to say they want social media updated after death.
But 35% of the 2,000 adults asked said their accounts should be deleted.
While just over half wanted someone to reply to expressions of sympathy for them and 55% wanted memories shared a couple of times a year, one in ten asked for someone to post once a week to keep their memory alive.
Updates after death could be responses to sympathies expressed or re-sharing old memories and pictures.
People were also considering, but less bothered about, updates to Twitter (15%), Pinterest (5%) and Instagram (1.5%), the survey from Jackson Canter Group of lawyers found.
Fond memories
The firm recommended people nominate a social media manager in their will, typically their spouse, partner or child and to keep passwords in a sealed envelope.
Wills and probate solicitor Naomi Pinder said wills containing instructions for managing the deceased's social media accounts were "a rapidly growing trend".
Four in every 10 people asked thought social media was a "new and unique" way of fondly remembering people, helping to make the grieving process easier to bear.
Updates about deceased relatives and friends are already sought by Facebook users - the survey found just more than a quarter look at dead friend's and family accounts to see and share in other's memorial posts.
Facebook has advice on how to make a legacy contact for an account and how to memorialise a person's status after death.
---
Have you looked after a social media memorial page? Or are you planning on having your social media account managed? You can share your experience by emailing haveyoursay@bbc.co.uk.
Please include a contact number if you are willing to speak to a BBC journalist. You can also contact us in the following ways:
anyone comes back who administrates a social media memorial page for somebody, or who has found comfort in doing so. Or who plans to have one when they are gone.