Football sex abuse: Victims in other sports 'could speak up'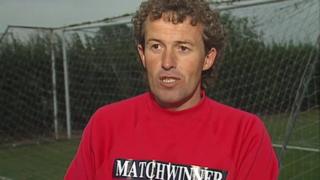 A "significant" number of alleged child sexual abuse victims are likely to come forward from a range of sports, a leading police officer has warned.
Chief Constable Simon Bailey, of the National Police Chiefs' Council, said wider allegations were likely to follow claims involving youth football.
Four police forces are investigating child sex abuse claims in football.
Four ex-footballers have spoken about being abused as children by former Crewe youth team coach Barry Bennell.
Ex-players Andy Woodward, Steve Walters, Chris Unsworth and Jason Dunford all spoke about their abuse by Bennell in an emotional interview on the BBC's Victoria Derbyshire programme.
Bennell, now 62, was arrested in Florida in 1992 for child abuse and has served three jail sentences for child sex offences, including one last year.
'Lid lifted'
Mr Bailey told BBC Radio 4's Today programme on Saturday: "I suspect that in the next few days and weeks that we will see a significant increase in the numbers that are currently reporting allegations of abuse to us.
"We are receiving reports of abuse in all sorts of different institutions. I am not in the least bit surprised that we are now seeing the lid lifted on exploitation within the world of football and I suspect there will be other sporting governing bodies who will come forward and who will identify the fact that they have similar problems.
"I just think that we have more and more victims, thankfully, who are having the confidence to come forward knowing the police service's response and society's response to their abuse is now very different."
Watch Victoria Derbyshire interview in full
Four ex-footballers speak of abuse
Abuse claims: What has happened so far?
Who is football coach Barry Bennell?
Former manager Warnock praises 'brave' Woodward
Former Wales international Robbie Savage, who played for Crewe from 1994-97, has also raised fears there could be hundreds of victims of sexual abuse within football.
The BBC football pundit was scouted by Bennell at the age of 11 but told the Mirror he was "one of the lucky ones" who was not abused by the coach.
"These boys were at an age when all they wanted in the world was to be a footballer," said Savage, who called for a full inquiry with "total transparency".
"If they were abused, maybe they were simply too scared to tell someone or they were terrified it was their football career over."
Lack of evidence
A former director of Crewe Alexandra has said the club was aware in the late 1980s of allegations that Bennell had sexually abused a junior footballer.
Hamilton Smith told the Guardian that senior officials had discussed sacking Bennell but decided there was not enough evidence.
Mr Smith said talks had been convened between senior officials at Crewe Alexandra, who included then-chairman Norman Rowlinson, who died in 2006.
Despite the discussions, the paper says Bennell was allowed to stay in his position as youth coach.
Crewe did not comment on the latest allegations, but previously said they were "making inquiries".
The English League Two club has also said it is "reflecting from within".
Mr Smith said a decision was made that Bennell was not to be left alone with boys and he was stopped from having them stay overnight at his home.
Crewe's director of football Dario Gradi has said the first he knew of Bennell's crimes was in 1994.
According to the Guardian, Mr Smith retained concerns about the set-up at Crewe after leaving the club.
'No case to answer'
He told the paper that in 2001 he had asked the Football Association to carry out an investigation into the club's care of children and asked about possible compensation for Bennell's abuse victims.
Tony Pickerin, the FA's head of education and child protection at the time, replied to say the FA had "investigated the issues and is satisfied that there is no case to answer".
When contacted by the BBC, Mr Pickerin said: "I am not an employee of the FA, I have left there now for 11 years, so I am not in a position to comment."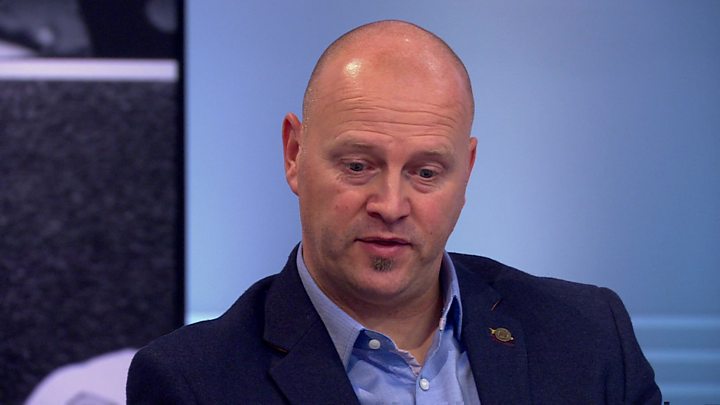 The Football Association has not commented on the Guardian's claims about Crewe.
However, earlier in the week, FA chairman Greg Clarke said: "I think the important thing is to make sure at the moment that people are safe and that crimes are being investigated.
"Following that, we will take whatever action necessary that supports the evidence we get."
Speaking to the BBC earlier in the week, Mr Unsworth said he "thought he had to come forward...and help everybody" after his girlfriend showed him an interview with ex-Crewe player Mr Woodward, 43.
The 44-year-old Mr Unsworth said he had stayed at Bennell's house several times in the 1980s, and the coach sometimes had two or three boys in bed with him, where he would abuse them.
Mr Unsworth said he had been raped between "50 and 100 times".
On Thursday, responding to a "safeguarding concern", officers from Thames Valley Police attended Bennell's home in Milton Keynes to recover a dog and other property.
The force said it was not investigating "any offences in connection with the incident".
Police forces in Hampshire, Cheshire, Northumbria and London have opened investigations into historical child sexual abuse claims in football.
The Premier League said it was concerned by the allegations and urged those with information to come forward.
A dedicated NSPCC hotline - 0800 023 2642 - was set up after the abuse claims came to light and has received more than 100 calls.
---
Does your child play football? What is your experience of your club? How do they protect children? You can email haveyoursay@bbc.co.uk with your comments.
Please include a contact number if you are willing to speak to a BBC journalist. You can also contact us in the following ways:
Whatsapp: +44 7525 900971
Tweet: @BBC_HaveYourSay
Send an SMS or MMS to 61124 or +44 7624 800 100