Alleged people smuggler to be extradited to Greece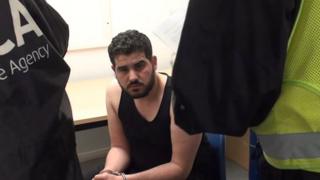 A man accused of being part of an illegal people smuggling ring will be extradited to Greece from the UK, a judge has ruled.
Jamal Owda, 27, faces allegations of smuggling people through Greece and getting 95 people into Macedonia.
Palestinian-born Mr Owda has maintained his "total innocence" and has seven days to appeal against the ruling.
But District Judge John Zani said his decision was "necessary and proportionate."
Mr Owda appeared at Westminster Magistrates' Court in central London on Tuesday.
He is alleged to have been part of a 23-strong people trafficking ring that smuggled people through and out of Greece between July 2014 and November 2015.
He is also accused of "facilitating the exit of 95 nationals and other groups of an unknown number of persons from Greece to Macedonia" between March and May 2015 for a sum of £1,500 per person.
'Poor conditions'
A European Arrest Warrant was issued by Greece and he was arrested in December 2015.
In his testimony to the judge, he said he had been born and raised in Palestine, and had moved to Greece to study between 2008 and 2012, where he had also volunteered at a detention camp.
Mr Owda expressed concerns about his treatment in Greece, claiming he had endured poor conditions during a two-week stint in custody in 2011 after misplacing his immigration permit.
He also stated he was diagnosed with schizophrenia when he was a teenager and had been in hospital for mental health issues when he lived in the Palestinian Territories.
He came to the UK in May 2014 and applied for political asylum after unsuccessfully re-applying for a visa to let him return to Greece.
Professor Nikolaos Koulouris, who authored a report that highlighted "the shortcomings within the Greek prison estate" also gave expert advice on the conditions in the country.
10 days to appeal
Judge Zani said: "He is worried about the prison conditions that he will face and he expresses concerns... as to whether the Greek authorities will be able or willing to provide the necessary medication to deal with his various mental health issues."
He also acknowledged the professor's "somewhat sceptical view of the possibility of likelihood of substantive improvements".
But the judge said he was ultimately convinced by "persuasive information" from Greek authorities that serious efforts had been made to improve the issues - including the hiring of Professor Koulouris.
"It is necessary and proportionate for me to order your return to Greece to face these allegations," he added.
Mr Owda now has seven days to seek permission to appeal against the decision in the High Court.
If he succeeds, he will stay in the UK until a decision is made. If he is not, he will be sent to Greece in the next 10 days.