Boris Johnson attacked over 'Prosecco insult'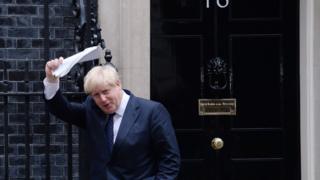 An Italian minister has accused Boris Johnson of "insulting" his country by suggesting it should back his version of a Brexit deal or face losing sales of Prosecco sparkling wine.
Carlo Calenda said the UK would abandon some "fish and chips exports" under the foreign secretary's approach.
Mr Calenda's comments follow a conversation with the UK's foreign secretary over trade.
The Foreign Office praised the "strength" of UK-Italian trade links.
Prime Minister Theresa May wants to get formal negotiations on leaving the EU started by the end of next March.
The government says it does not want to reveal its negotiating hand before this happens.
But, describing a conversation with Mr Johnson about the UK's preferred Brexit outcome, Mr Calenda, Italy's economic development minister, told Bloomberg TV: "His idea is, 'We want to have access to the common market without giving you access in terms of free circulation of people,' and I think this is wishful thinking.
"His answer was, 'OK, but you are selling a lot of what we call Prosecco in the UK... and you will allow us to do this because you don't want to lose Prosecco exports.'
"I said, 'Maybe we're going to lose some Prosecco; you're going to lose some fish and chips exports. The difference is I'm going to lose [exports] to one country, you to 27.'
"Putting things on this level is a bit insulting."
A Foreign Office spokeswoman said: "The foreign secretary's comments reflect the strength of the trading relationship between the UK and Italy.
"We're looking to ensure this continues as we depart the EU."
Whitehall sources insisted that the comment about Prosecco had not been an insult but part of a "constructive" conversation.
UK sales of Prosecco overtook those of champagne last year, reaching £339m in the 12 months to July, according to research company IRI.
No figures on UK exports of fish and chips to the EU were immediately discovered by the BBC.
Earlier, Mr Johnson reportedly told the Czech newspaper Hospodarske Noviny he did not believe the UK would remain in the EU customs union - which allows members to move goods without the imposition of tariffs on each other - after Brexit.
He was quoted as saying he believed this could happen while "maintaining free trade" with EU states, suggesting the UK could remain within the single market.
Speaking to the BBC's Newsnight, Dutch finance minister Jeroen Dijsselbloem - who is also president of the eurozone's Eurogroup - said Mr Johnson was putting forward options that "are really not available".
"He's saying things that are intellectually impossible, politically unavailable, so I think he's not offering the British people a fair view of what is available and what can be achieved in these negotiations," he said.
EU leaders have continually warned that the UK cannot expect access to European markets after Brexit unless it accepts the free movement of labour.
Mr Johnson, a leading figure in the campaign to leave the EU ahead of June's referendum, has criticised those who "prophesied doom" over Brexit.
He said: "We are going to get a deal which is of huge value and possibly of greater value.
Mr Johnson added: "We are going to get the best possible deal for trade in goods and services."